Hannah Storm Reports Stuart Scott's Death — VIDEO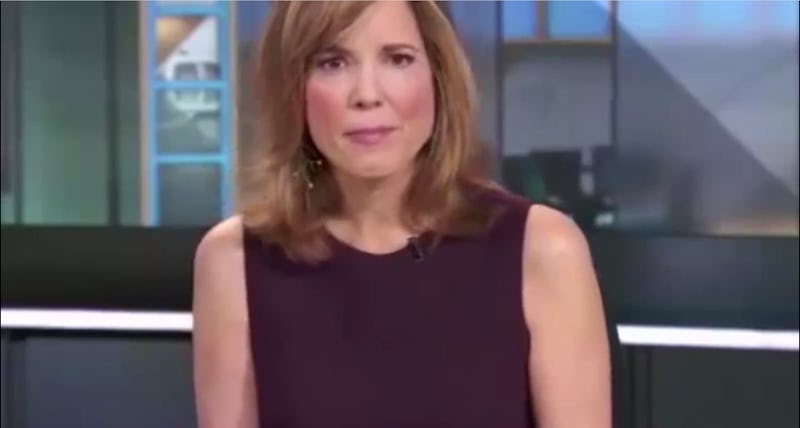 As we awoke to the sad news of Stuart Scott's death on Sunday morning, perhaps one of the people who had it the hardest, outside his family circle, was his friend and colleague Hannah Storm, who tearfully announced Scott's death to ESPN's audience.
Struggling to hold back her emotions, Storm said:
I have some very sad news to report to you this morning. Our colleague, our friend and our inspiration, Stuart Scott, passed away earlier today.
Scott's death at 49 to cancer triggered an outpouring of grief across the country among sports fans, accustomed to his lively, engaging reporting, and fellow news anchors. As a sports journalist, he came to be known as one of the most influential newscasters in his network ESPN's history, as well as his endearing catchphrases such as "Boo-ya!" and "As cool as the other side of the pillow." His groundbreaking reportage earned him much-deserved praise. ESPN president John Skipper said that Scott's approach to interviewing athletes "changed everything," and sports radio host and former ESPN anchor, Dan Patrick, said of Scott:
He didn't just push the envelope. He bulldozed the envelope.
In her emotional announcement this morning, Storm invoked Scott's ESPYS speech — an event at which he won a Jimmy V Award for Perseverance — from a mere six months before his passing. She said:
At July's ESPY awards, Stuart Scott told the audience: 'When you die, it does not mean that you lose to cancer. You beat cancer by how you live, why you live, and in the manner in which you live.'
Scott's renown was such that even President Obama issued a statement remembering the ESPN anchor. The president, in his tribute, said:
I will miss Stuart Scott. Twenty years ago, Stu helped usher in a new way to talk about our favorite teams and the day's best plays. For much of those twenty years, public service and campaigns have kept me from my family — but wherever I went, I could flip on the TV and Stu and his colleagues on SportsCenter were there. Over the years, he entertained us, and in the end, he inspired us -- with courage and love. Michelle and I offer our thoughts and prayers to his family, friends, and colleagues.
In Storm's moving eulogy to her friend and colleague, she said, coming close to breaking down:
Since 1993, those of us here at ESPN fortunate enough to work with Stuart saw how he lived. And in the past seven years as he fought cancer, we saw why he lived. For his daughters, Taelor and Sydni. And so today we choose not to say that Stuart lost to cancer at the age of 49. Instead, we'll simply say we all lost Stuart.
Image: AC569/Youtube/Screenshot; Getty Images