Would You Say Your "I Dos" at Starbucks?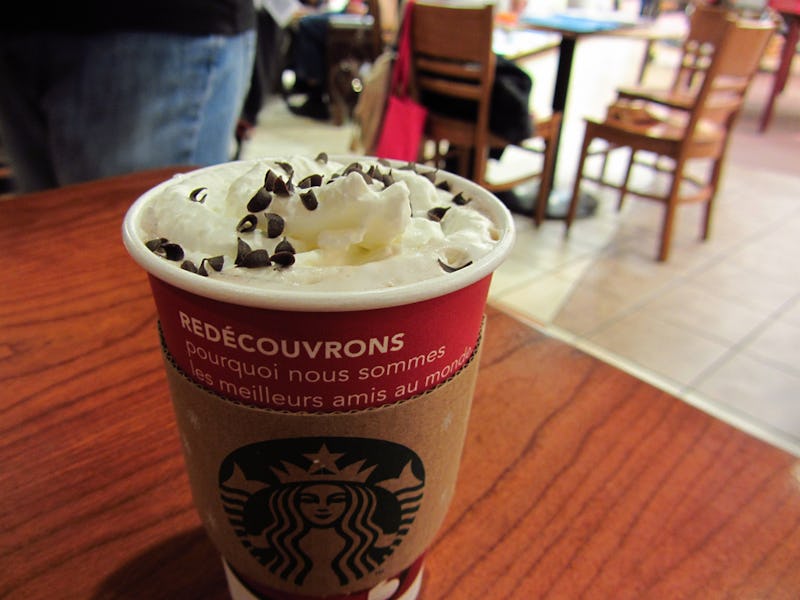 Remember that couple that had their wedding at Costco a few weeks ago? Well, they're not the only happy newlyweds to have tied the knot at an unusual, food-themed location recently: Jordan Sans and DeAnna Dodson of Beloit, Wisconsin got married at Starbucks on New Year's Eve — and you know what? The whole story is actually ridiculously cute. Like the Costco couple, these two lovebirds have a soft spot in their hearts for the mighty 'Bux; they go there together every single morning to have coffee and chat before starting the day. Not only that, but it's been part of their routine for years: They'd been dating for 13 years before finally tying the knot. How's that for commitment?
According to GazetteXtra, Senz and Dodson met back in 2001 when they were both working at a Burger King in Beloit. At the time, Senz was 18 and attending the University of Wisconsin Whitewater, while Dodson was 17 and a recent high school graduate. They started dating at the very beginning of 2002 — January 3, to be exact — and on January 1, 2007, Senz popped the question.
In the intervening eight years, the couple kept attempting to arrange their wedding; eventually, though, they decided they didn't want to deal with either the bother of planning a ceremony and reception or the scary-looking price tag that usually comes attached to one. Instead, they used the money for a down payment on a house (smart!), and on December 17, Senz called Dodson on his way home from work and proposed the idea of getting married on New Year's Eve.
So at nine o'clock in the morning on December 31, they headed on over to one of Starbucks' Janesville locations, signed their marriage certificate, and said their "I dos." Senz's vows included the phrase, "I promise to love you a latte." Because when else can you break out a pun that perfect if not at Starbucks on your wedding day?
Come to think of it, Starbucks may not be the only chain restaurant that would make an excellent low-key wedding location. How about these other options?
1. Chipotle
Nothing says "congratulations" like a celebratory burrito.
2. Five Guys
Instead of throwing rice, I imagine customers and guests would send the happy couple off by pelting them with gigantic portions of fries.
3. Krispy Kreme
Free donuts for everyone!
4. Pret A Manger
If you can't have a Paris destination wedding, at least you can have a Pret destination wedding.
5. McDonald's
As long as you're in Hong Kong, that is.
6. KFC
I would argue that in order to pull off a KFC wedding, it would have to be specifically at one of the chain's Japanese locations. If they can make fried chicken jewelry, surely they can make a fried chicken wedding ring, right?
Images: Calgary Reviews/Flickr; Giphy (7)