How To Channel 'Downton' Style in 2015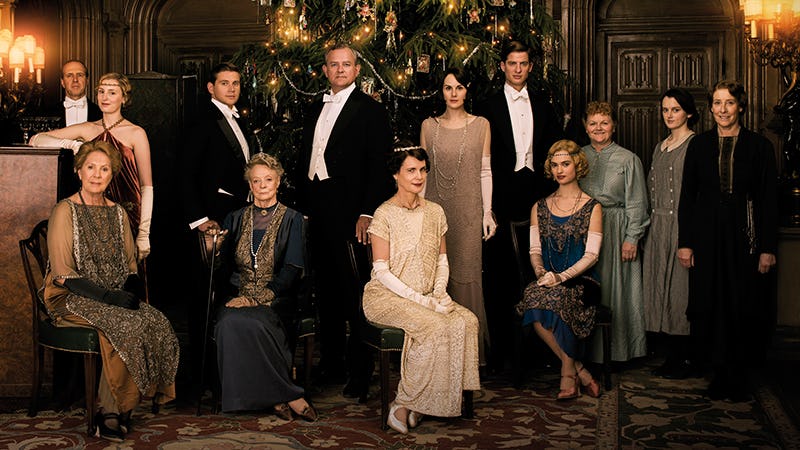 Nothing quite cures post-New Years ennui like January sweeps on television. For those who enjoy a spot of tea and a finely tuned British accent with their Sunday supper, Downton Abbey 's Season 5 premiere — and its suave style — is already one of the month's highlights. With enough action to move the plot forward but not so much that the program could be confused with the likes of the ever-startling Vampire Diaries, Abbey commences its new season in 1924, smack dab in the heart of a decade so beloved for its cultural and sartorial transformation that even those who didn't flock to Downton before may be riveted.
Unlike the Victorian period before it, the Roaring Twenties was a more liberated era for fashion as well as etiquette, and Abbey's costume designer Caroline McCall takes care to incorporate shifting cultural perspectives into the show's latest season. Just as Lady Edith's clothing has become more prepossessing over the course of the series, the fabrics, design, and cut of each female characters' ensembles has become more sensuous and playful.
The defined empire waists of 1912 are replaced by the trendy, loose drop-waist of the 1920s, and strict chokers of pearls and other gemstones are replaced by waist-grazing ropes of beads in Abbey's latest season. Sumptuous satins in rich autumnal hues are sported by the show's front runners, and jaunty matching chapeaux provide the ideal accent to thick woolen coats in muted jewel tones. In other words, Season 5 may provide Abbey's most covetable wardrobe to date. If you crave the Downton Abbey look without appearing like a deranged fan, take note of these five simple steps to capture the show's Roaring Twenties energy.
1. Try A Drop-Waist Midi Skirt
Though a drop-waist skirt may not be the best friend of women with curves, it was all the rage in the '20s, and McCall made sure the style graced each scene. Often, Ladies Mary, Edith, and Rose rock the style in the form of subtly pleated midi skirts in plaid or elegantly beaded silk. A fisherman's sweater or simple tee modernize the look without sacrificing comfort.
2. Throw Out the Rule Book and Sport Satin During the Daytime
Rich silk satins were a hallmark of the premiere episode, as they were of the decade's aristocracy. Lady Grantham showcases a shimmering, ice blue silken number adorned with a long necklace in honor of her anniversary to Lord Grantham, while Lady Mary graces afternoon tea in a mulberry-hued satin frock. A lace-embellished slip dress with laid-back boots and a chunky knit evokes the same feel in a modernized fashion.
3. Put a Hat on It
McCall took every sartorial chance to sneak a chapeau onto the heads of her characters. Edith sulks about the episode in a be-ribboned navy confection which matches her funnel-neck coat; Rose sports a jaunty patterned version with bright splashes of crimson to complement a boldly patterned, bohemian frock; and Lady Mary shows off a simple, muted topper while accompanying her suitor on a hunting excursion around the grounds. Given how brisk the weather is outside in present day, you might find a matching hat to be a surprisingly utilitarian accessory for 2015.
4. Wear Anything and Everything Beaded
For evening, McCall dresses the aristocratic family in a series of intricately beaded drop-waist dresses, many of which she designed from a single swatch of a vintage gown. Michelle Dockery's Lady Mary looks particularly lovely in a deep burgundy, beaded drop-waist gown for a relatively intimate family gathering, as does Lady Rose in an earthy, champagne-hued gown with its own dose of heavy embroidery. Evening Wear is intended to be lively and ornamental, so channel the trend in the form of a maxi, mini, clutch, or shawl this season.
5. Polish Off Your Look with a Long String of Pearls or Jet Beads
A choker or bejeweled wreath is so 1910s, a fact which outspoken teacher Miss Sarah Bunting is blissfully ignorant of in Abbey's premiere episode. True to the iconic flapper look for which the decade is known, McCall polished off each character's ensemble with a long string of pearls or muted beads to complement the elongated shape of drop-waisted dresses. If you're looking to ignite a simple LBD, the long necklace is the perfect accessory for the job.
Images: Downton Abbey/PBS