Why to Love Walter Van Beirendonck's Designs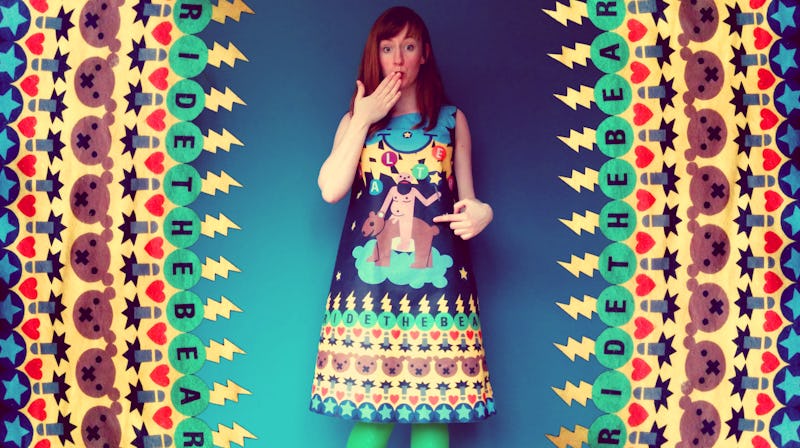 The one and only designer dress I own is a 2009 Walter Van Beirendonck, and the reason I could afford (or pretend to afford) this particular dress has a lot to do with the ideals surrounding the Belgian fashion designer's work. There are three main reasons I am attracted to his clothes: Firstly, it is fashion with a moral message — his apparel resonates statements that are anti-violence, anti-racism, pro-environment, pro-hope, pro-love; so what's not to swoon over? Secondly, he releases ranges that actually are affordable because he wants his designs to be accessible to a young audience. And thirdly, he loves colors as much as I do! Unfortunately for me though, he hardly ever designs for women — all the more reason to jump for joy when I heard he had designed a dress that would cost just $70.
Van Beirendonck lives in the same city as me, and in the 9 years that I've lived in Antwerp, there is one day that has a special place in my memory: The day he and I were walking on the same street at the same time. I know I sound like a silly fangirl, but there was something special and mesmerizing about his presence. The day he passed me in the street (he passed me because I was frozen to the spot in awe) he was wearing a mint colored quilted suit and there was a wonderful cloud of fragrance trailing after him. It was like a dream smell of flowers and baby powder. I did a bit of research into this suit, and I guess it was a relative of this seafoam quilted jacket. In any case, it was a spellbinding appearance in my otherwise humdrum day. And solidified the many reasons Van Beirendonck is worthy of my adoration.
1. POSITIVE DEPICTIONS OF GENITALIA
I need to be very careful about when I choose to wear my fabulous Van Beirendonck as it is made of paper! So it's definitely not an option if there is any chance of rain, or if I'm planning to cycle, or if there is any danger of anyone spilling drinks in my vicinity (that means no children or drunk people — possibly just no drinks at all). The last time I wore it was to the opening of an art exhibition at which I showed a few paintings. There was a little wine involved, but visiting an art gallery is usually a pretty civilized affair, so not much danger of spillage!
So let me tell you a little more about this fabulous dress. First of all, it is decorated with penises — lots of them! It is a wonderful feeling to walk around wearing a dress covered in genitalia that people only notice if they look really closely at the design. Van Bierendonck is a bear of a man, both in physical appearance and in name, and I love that he uses the image of the animal in his work. There's a feeling of fun freedom to someone who is doing what they want to do and saying what they want to say. Even though the dress does depict naked male parts, I do not at all experience it as being as offensive or x-rated as some might. It is just a body part, much like any other body part — and according to psychologists we should be teaching our children to talk openly about sexuality, not hiding it or keeping it a secret.
2. ACCESSIBLE AND AFFORDABLE DESIGNER WEAR
Van Beirendonck designs for young people, and is aware that his target audience does not always have the kind of funds usually needed to bag designer threads. He cuts out the middlemen from the production and distribution process, and has his clothes made on a large scale. This enables him to keep the prices down without resorting to manufacturing in low wage countries.One of these large scale projects is his children's collections for JBC. For prices that are a little above average but not crazy ridiculous, your kids can wear beautiful Van Beirendonck clothes. His latest children's collection ZulupaPUWA came with a lightbulb character and the message, "ZULU says Lights OFF." You'll find smiling lightbulbs popping up all over this range, hanging from strings or in the pockets — all the while asking kids to think about the environment and turn off the lights when they leave a room. His previous children's collection featured the message "It's OK to be different," a message I applaud wholeheartedly!
3. THE MESSAGE
Humor plays a huge part in Van Beirendonck's work. I mean, you can't help but childishly giggle at a penis dress, right? However he uses this humor to get across important messages — he strives to demolish gender constructions, to promote safe sex and to comment on world happenings. In an interview with Style.com, he said:
In my fantasy world, I see this as soldiers fighting for a kind of freedom. The helmets are not really referring to an army. It's more about a freedom warrior, people demonstrating in the street. I always loved the idea of people standing up for diversity, for their right to be different.
A recent project gained Van Beirendonck the title Fashion's Freedom Warrior, and he has earned it. He is not afraid to use his work to communicate a strong message. His Stop Racism headdresses were inspired by the street protests and demonstrations going on around the world.
In the 1990s, Van Beirendonck's work gravitated heavily around the promotion of safe sex and the fight against the spread of AIDS. Brooke McCord of DAZED wrote about his work, saying:
You have entered the sex zone, a rubber induced realm, where men clad head-to-toe in muscle tight latex peacock their way down the catwalk, boasting acid bright marabou headwear. Women are dressed in figure-form fetish-wear emblazoned with Bowie lightening bolts, with zips running from the back of the head right under the crotch, leaving the wandering imagination to run wild. Despite bondage style visuals, immortalised by Jean-Baptiste Mondino's blow-up sex doll meets model images, and a theme of fetishism the latex is in fact representative of a second skin, promoting safe sex, AIDS awareness and Van Beirendonck's fun, open approach to sex.
4. BEARDS AND RUBBISH
For those of you who are loving the beard trend, Van Beirendonck did the beard before anyone did the beard. He is the beard.
You don't need to look far on the streets of Antwerp to see Van Beirendonck's work, as he even designed the uniforms for the Antwerp City garbage collectors. I love that he would take on a project like that — it makes me feel like he must be a nice guy! He also designed outfits for U2, but does not limit himself to working with big stars. He is a great supporter of the arts and he loves music: You can see some of his beautiful outfits in this Black Box Revelation music video. That tasseled coat looks really cosy and warm, right? (I have issues with the cold, so I judge everything according to warmness level.)
And let's not forget that the Vogue Mix & Match trend for 2015 is something he has been doing for years. Van Beirendonck does not allow boundaries of clothing to restrict his designs — they occupy any space he feels they should.
Images: jbc.be, Author, Twitter