Walt And Jesse Won't Appear On 'Better Call Saul'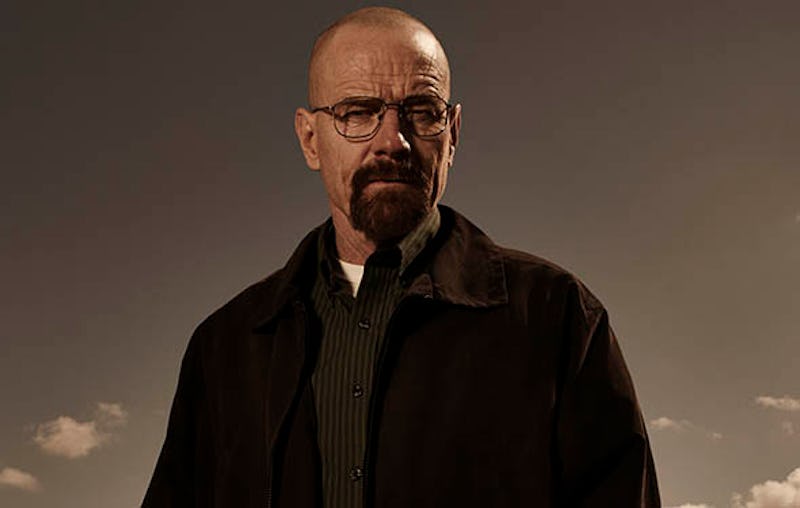 After much speculating and general freaking out, Breaking Bad fans finally have some answers about what to expect from Better Call Saul, the upcoming prequel to the original series. Kind of. Created by Breaking Bad writer-producers Vince Gilligan and Peter Gould and scheduled for a two-night premiere event on AMC in February, Better Call Saul focuses on small-time " criminal lawyer" Saul Goodman, played by Bob Odenkirk, before he meets Walter White and Jesse Pinkman, fine purveyors of crystal meth and partners in crime. There's been a lot of theorizing about whether Bryan Cranston and Aaron Paul will appear on the spinoff to reprise their roles as Walter and Jesse, but series creators Gilligan and Gould finally cleared the air during a press tour on Saturday, Entertainment Weekly reports.
"In the spirit of full disclosure," Gould said, "Walt and Jesse will not appear in season 1." While this may be disappointing news for Breaking Bad fans, or may set off a fresh round of feverish speculation ("So...there will be other seasons in which they could appear?"), Gilligan and Gould stand by their choice, arguing that this is probably for the better:
"The short answer is: The sky is the limit," Gilligan added, "and any of these characters could conceivably show up in future seasons. But the intention is it will feel proper and organic, because if it feels like a stunt then something has gone terribly wrong in the writers' room[...]To be completely honest, I want to see them all eventually."
Fans hoping for a full-out Breaking Bad revival might feel let down by Gould and Gilligan's decision to leave Walt and Jesse out, at least, for now, but Better Call Saul might actually be pretty good. "This is certainly a risk, and I was scared the whole time, and I'm still anxious about how it will be received," Gilligan admitted, and later added, "I'm really proud. It's a goddamn good show. The first two are really good and it only gets better from there."
There you have it, speculators. Sure, Better Call Saul won't be a Breaking Bad resurrection, but that doesn't mean it won't be a great show.
Images: AMC