Yes, Plus Size Women Can Wear Slits and Cut-Outs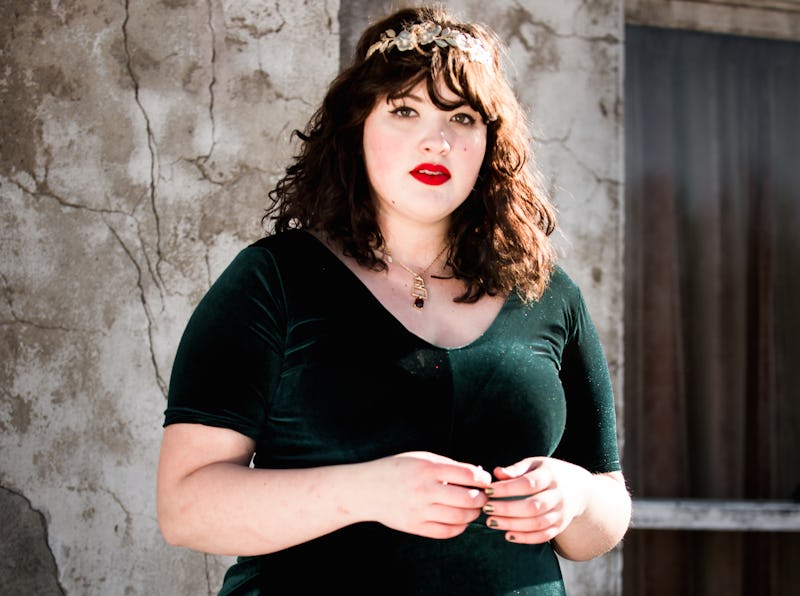 I don't normally pride myself in being "with the trends," "on-trend," or any derivative of those usual fashion-person characteristics. This is mostly because I don't feel the need to be. Sometimes there will be technically-on-trend looks that fascinate me — like wicker basket hats or Victorian ruffles (I'm probably the only person in the world who didn't loathe Keira Knightley's Chanel dress at the Golden Globes last night) — but sometimes I really could not care less. Because, really, what is a trend? Do designers get together twice a year and brainstorm — coming to some kind of collective decision as to whether ponchos will be in or out that season? It's all a bit weird. So I wear what I like — at least, I like to think I do — and if it's on-trend, so be it. Thus seems to be the case with slits and cut-outs. I must admit, the 2015 trend radar is hinting at a lot of things I've always adored (loafers and overalls, anyone?). And one thing on my eye is definitely the sexy, sultry wonderment of a good peekaboo cut-out or strategically placed thigh-slit.
So I know: Plus-Size women aren't supposed to show SO. MUCH. SKIN. Right? First off — I'm no stranger to the rules and regulations surrounding the "asking for it" phenomenon. Victim blame permeates our rape culture, and the reality is that we live in a society that largely believes that when a woman is scantily clad, she "deserves" whatever happens to her. And I'm no stranger to the misguided belief that a plus-size woman who isn't afraid of showing her body must be desperate in some capacity. The thing is, as women we have the right to control our bodies. We have the right to decide whether we want to wear the mini skirt and thigh-highs or the chunky knit sweater. On our own terms. I've always loved the look of slits and cut-outs — they just add a subtle (sometimes not-so-subtle, granted) touch of sexy to an otherwise purely glam ensemble. And being plus-size shouldn't have to equate to being unworthy of this particular look (or any look, for that matter).
So all that being said, I'm thrilled that plus manufacturers are with it on this one. When Maggie Gyllenhaal accepted her award at last night's Globes, she said in a beautifully feminist speech: "What I see, actually, are women who are sometimes powerful and sometimes not, sometimes sexy, sometimes not, sometimes honorable, sometimes not." She cites positive representation of actual women as a game changer in the television industry, but also in the world. Sometimes women want to be sexy. Sometimes they don't. But when they do, well, they should be able to feel good about that fact.
RUM AND COKE
Joan Dress, $115, shoprumandcoke.com
FASHION TO FIGURE
Gilded Cutout Dress, $34, fashiontofigure.com
Metallic Off-the-Shoulder Dress, $32, fashiontofigure.com
CITY CHIC
Textured Weave Dress, $45, citychiconline.com
FOREVER21 PLUS
Heathered High-Slit Tee Dress, $24, forever21.com
Tribal-Inspired Maxi Dress, $20, forever21.com
SIMPLY BE
3D Textured Cut-Out Dress, $40, simplybe.com
Kelly Brook Cut-Out Detail Dress, $57, simplybe.com
BOOHOO
Philippa Cross Front Bodysuit, $20, boohoo.com
Ella Cross Front Long-Sleeve Bodycon Dress, $24, boohoo.com
Sheena Wrap Front Slinky Maxi Dress, $35, boohoo.com
Zoe Sequin Top Front Split Maxi Dress, $44, boohoo.com
MISSGUIDED
Plus Size Mesh Detail Dress, $57, missguidedus.com
Images: Marie Southard Ospina/Rachel Crittenden Photography; Courtesy Brands