'Gone Girl' Can Now Scare The Crap Out Of Kids Too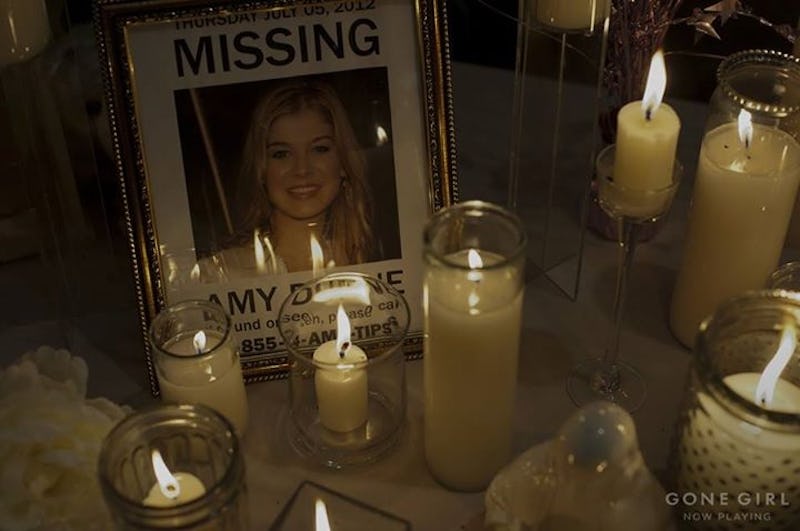 Amid all this chatter about a rumored sequel to Gillian Flynn's massive blockbuster novel Gone Girl, a spin-off to the eerie story snuck in — and it's not at all what you've been expecting. It may not be a full-length companion novel, and no, it's not the spin-off story of Nick Dunn's sister Go (though we can dream), but it's a children's picture book. And it gets creepier. Anyone who buys the January 13 release of Gone Girl the movie on DVD will also receive a 36-page picture book Amazing Amy . Yes, the children's book within the book that Amy Dunne's psychologist parents wrote about her. Spoiler alert: They missed some things.
The Amazing Amy books were previously made available on iTunes to download digital samples, but this is the first time one has been made into an honest-to-goodness hard copy book.
In case you've been ostrich-style hiding your head in the sand for about, oh, two years, you've heard of Gone Girl. Flynn's suspenseful, creepy novel is about a marriage gone bad (really, really bad), and Amy, the wife, goes missing on the couple's fifth wedding anniversary. But readers get to hear from "cool girl" Amy via her diary left behind, where we start to see gaps in both Nick and Amy's stories, secrets and lies, and all-out deceit. If you were one of the two people who missed the book, perhaps you saw the Ben Affleck and Rosamund Pike movie version directed by David Fincher that stole everyone's attention this year.
MTV News has the exclusive cover art and first six pages of Amazing Amy: Tattle Tale — there is something so goosebumps-inducing about that title, isn't there? In the book, as described in Gone Girl, the character Amy always tries to do the right thing, but somehow things get a bit twisted, and not in that ha-ha, happy-go-lucky Amelia Bedelia way. And yet, Amy's parents keep the stories upbeat and positive the whole way through.
So what I'm saying to you is this might not be a children's book that you would actually want to read to your children.
Images: Gone Girl/Facebook; MTV News