Which Actor's Not Gonna Get an Oscar Nomination?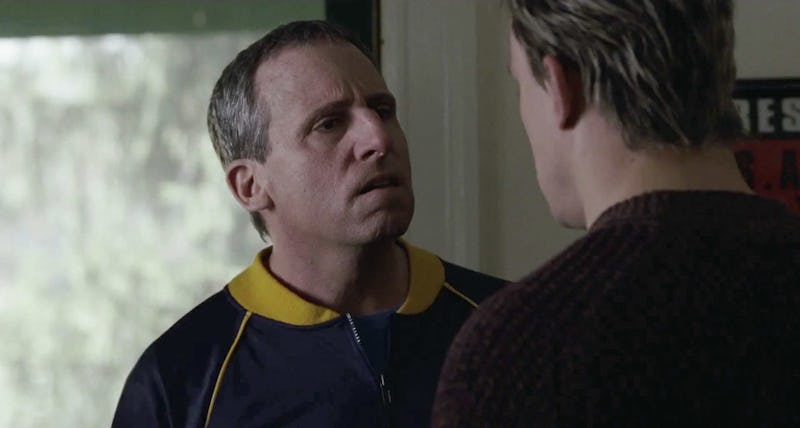 A lot has been said about the weakness of this year's Best Actress field at the Oscars, and for good reason; except for sure nominees Julianne Moore and Reese Witherspoon, the 2015 contenders, to be announced on Thursday, are not exactly the most impressive bunch. Sure, Felicity Jones was moving, Jennifer Aniston was brave, and Rosamund Pike was scary, but in terms of competition, the women's race is really only between Moore and Witherspoon. The Best Actor category, however, is a whole different story; not only are nearly all of the contenders equally strong, but there's a lot of them. And even if you take away the longshots (sorry, Bradley Cooper), the race is still too full — because while there's only five nominations to be given out, there's six actors vying to grab a spot.
And the worst part is, they all richly deserve one. Every one of the six men competing for a nod could theoretically earn the actual award, albeit some situations seem more plausible than others. Imagining Michael Keaton, or Eddie Redmayne, or Benedict Cumberbatch, or David Oyelowo taking the stage to collect an Oscar is certainly in the realm of possibility; Steve Carell or Jake Gyllenhaal's ascent is slightly less likely, but not out of the question. All six actors gave tremendous performances this year, and each of them has already received nominations (or wins) from the Golden Globes or the SAG Awards. Really, Oscar recognition for all of them wouldn't be unwarranted.
Except, of course, that's not possible. There are only five spots for actors, and presuming the six men mentioned above are the leading contenders, one of them is going to get cut. No matter who it is, the snub is going to be massive — how could it not be, considering the talent of and support behind each of the potential nominees? Whether it's Steve Carell or Michael Keaton, someone's going to go; the only question is, who will it be? Here's my guess:
Safest: Michael Keaton
Michael Keaton is as sure of a nomination as his Birdman character is of being mentally unstable: in other words, very. The veteran actor's performance as a washed-up star attempting a comeback has earned him nominations from every critics group there is, and deservedly so — Riggan Thomson was the role of his lifetime, not to mention a story with irresistible parallels to the actor's real career. There's no way the Academy won't want to honor this, whether just with a nomination or with the actual award.
Almost as Certain: Eddie Redmayne and Benedict Cumberbatch
Two talented British actors who got prime roles playing brilliant but troubled men in important and heartwarming biopics. There is nothing in that sentence that Oscar voters don't love, and they'll be sure to show this support when it comes to honoring both The Theory of Everything's Redmayne (above) and The Imitation Game's Cumberbatch.
Probably Okay: David Oyelowo
In any other year, Oyelowo's nomination would be a sure bet; he gave a fantastic performance as an iconic leader in one of the most acclaimed movies of the year, Selma. But due to his tough competition, as well as the inaccuracy backlash hitting his film, the actor's shot at Oscar is a bit shakier than it should've been. Still, it's highly unlikely he won't get a nomination — his lived-in, affecting performance as Martin Luther King, Jr., was simply too good to be ignored.
Up in the Air: Steve Carell and Jake Gyllenhaal
The problem with Carell and Gyllenhaal's awards chances is that they're both being contenders for similar reasons: doing great work playing unhinged sociopaths in disturbing movies. Otherwise, the characters are completely different, but in Oscar voters' eyes, their shared creepiness might outweigh anything else. So, most likely, it's going to be one of these guys who doesn't make the cut. Will it be Carell, whose Foxcatcher performance earned raves at the start, but has been steadily losing interest over the last few months? Or will it be Nightcrawler's Gyllenhaal (above), who's managed to sneak into the Globes and SAG races, but whose movie itself hasn't received nearly as much acclaim? My bet's on Carell, but whoever it is, it won't be fair; both actors deserve a spot, but unfortunately, only one of them's going to make the cut.
Images: Sony Pictures Classics; Fox Searchlight; Universal; Paramount;