What To Drink When You're Reading Alone At The Bar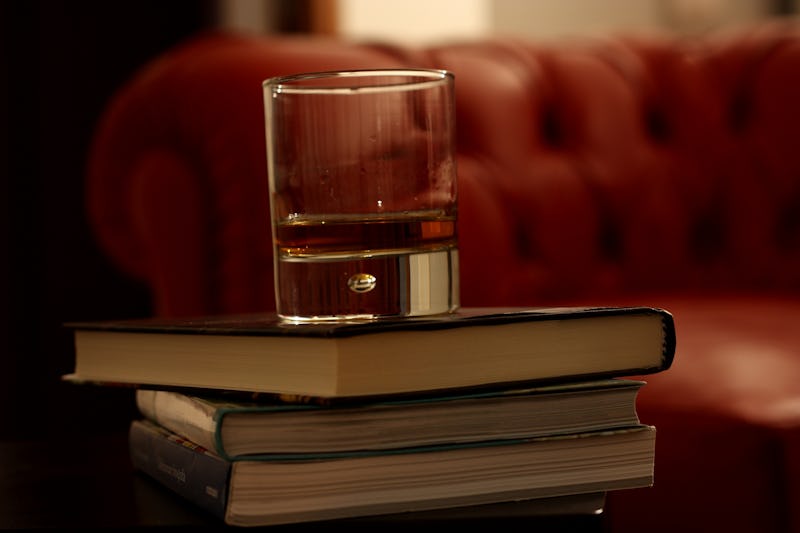 Whether you take it on the rocks or neat, whiskey's amber hue and complex flavors signify an appreciation for the finer things in life. And although it gets stereotyped as a man's drink, we all know that's just not true. Not only do ladies drink whiskey and love it, but NPR reports that female drinkers are leading the whiskey renaissance. All that said, I agree that's it high time we did away with the stereotype, don't you?
If your friends are busy, and famous whiskey-lovers Hillary Clinton, Lady Gaga, and Rihanna aren't free for happy hour (ugh, schedule conflicts), fear not. The only accompaniment you'll need with that whiskey is a great book. Think about it: liquor and literature both provide the kind of life-affirming buzz that can reset a bad day. A good book will never keep you waiting or stand you up. It's more interesting than scrolling through your Facebook Feed, and an addictive story is a perfect way to avoid the eyes of any unwanted suitors.
So, pull up a bar stool. These seven whiskey-book pairings prove that hooch isn't just for the old boys club anymore.
Yes Please by Amy Poehler + Jack Daniels Old No. 7
For a cheap date with guaranteed laughs, pair the world's best-selling whiskey with comedian Amy Poehler's best-selling advice book. If you feel weird about drinking alone at a bar, take the title of Poehler's book to heart: "Because what else are we going to do? Say no? Say no to an opportunity that may be slightly out of our comfort zone? I believe great people do things before they are ready." Jack won't break the bank while you and Amy solve all of your growing pains.
Dear Money by Martha McPhee + Johnnie Walker Black Label
Delve into this gilded age tale of a struggling writer whose midlife crisis lands her on Wall Street, where a mentor of questionable morals molds her into a bond trader with more money, more problems. Pair this satire with Johnnie Walker Black Label, a premium scotch that's smoky, smooth, and tastes like getting a promotion and a raise. Follow Christina Hendricks' lead and sip this bold classic on the rocks.
Last Exit to Brooklyn by Hubert Selby Jr. + Kings County Whiskey
The down on their luck characters in Selby's iconic ode to 1940s Brooklyn need compassion like you're going to need chocolate. Kings County Distillery's Chocolate Whiskey is dark and surprising, as is Selby's gritty novel, once the subject of a famous obscenity trial. This isn't your cosmo and Sex in the City fare, but it's perfect for when you're feeling anti-social.
The Age of Innocence by Edith Wharton + Wayward Apple Whiskey
The first female to win the Pulitzer Prize, Edith Wharton took social commentary into bold new territory with this classic. Nearly a century later, Wigle Whiskey co-owner Meredith Grelli is leading the whiskey revolution toward funky new flavors with custom blends like the Wayward Apple. Pair the forbidden fruit with a classic tale of a society that "dreaded scandal more than disease"— because sometimes getting swept up in the gossip of a good book is even juicier than eavesdropping at the bar.
The Wife by Meg Wolitzer + Maker's Mark
Maker's Mark was born as a labor of love between husband and wife team Bill and Margie Samuels — he blended the smooth bourbon while she designed the bottle, label, and that iconic red wax seal. Keep that in mind as you read Meg Wolitzer's novel, which is a more complex love story about a woman yearning to make her mark in a marriage that isn't quite as collaborative. Try a shaken and chilled Maker's Mark martini to complement this twist on the happily ever after trope.
Station Eleven by Emily St. John Mandel + Firefly Moonshine
Mandel's post apocalyptic drama is rendered with prose so gorgeous it'll make you believe that art really can save the world. Pair this page-turner with Firefly Moonshine, which tastes a lot smoother than its Prohibition-era predecessors. Here's hoping we never live in an age without electricity, but drinking moonshine feels like good preparation for entering a fictional world in which well-stocked bars are a thing of distant memory.
The Teleportation Accident by Ned Beauman + Knob Creek
Reading The Teleportation Accident is like hanging with your funniest drunk friend — if she could perform verbal acrobatics under the influence. A real multi-tasker, this one's got a bit of fantasy, history, thwarted romance... I could go on, but just go order a Knob Creek whiskey sour, which is a drink that's just as fun, and get your literary swerve on.
Images: Samuele Ghilardi/Flickr