Will Lisa's Son Max Be on 'Vanderpump Rules'?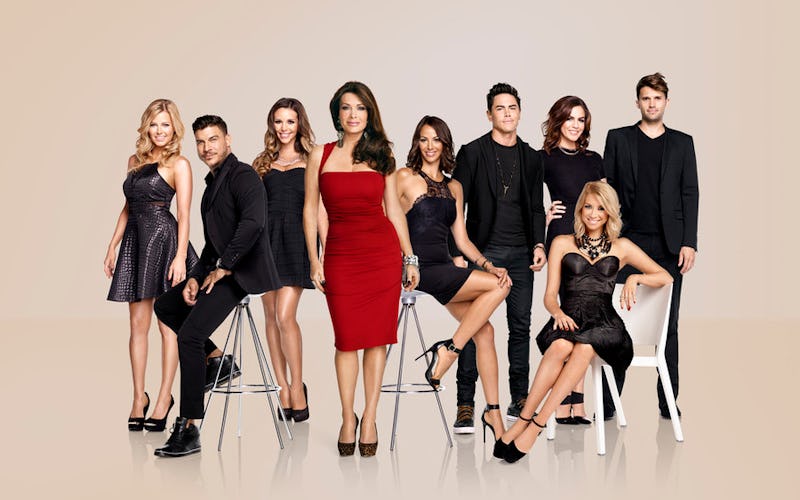 Earlier today, I brought you a little update in anticipation of the return of Lisa Vanderpump's son Max Todd to The Real Housewives of Beverly Hills . In contrast to his mother, father Ken, and sister Pandora, Max has kept out of the public eye and hasn't appeared on RHOBH very much, so we unfortunately but understandably didn't have a ton of information about his personal life. However, the Jan. 13 episode of RHOBH marked Max's return to the show, and it was well worth the wait because we found out he's been working at Sur. Cue fantasies of Max appearing on Vanderpump Rules .
Last time we heard, Max was about to attend college for music, but as Lisa told us in the episode, Max decided to put his education on hold and leave school. But you can't be a Vanderpump and do nothing all day. Even Giggy has like four jobs, right? So Max is working at Sur while he figures things out. Oh, to be a Millennial again.
In my update on Max, I noted that he was hanging out with a lot of Vanderpump Rules cast members. I just thought he got to know them because his parents owned the restaurant, but duh. It makes so much sense that he's working at Sur now, and I'm glad we now have confirmation.
However, I don't see him appearing on Vanderpump Rules any time soon. He's barely appeared on RHOBH, so how can we expect him to appear on that ego-fest? I don't see it happening.
This episode of RHOBH is titled "Live and Learn," but it really should have been called "Family Affair," because we're getting up close and personal with all of the Housewives and the issues they have with their offspring. Anyone who has parents knows this isn't always cupcakes and lollipops, and we definitely witnessed a tense scene featuring Max and his parents.
Even though Max is working at Sur, it is still his parents' restaurant, so he's not completely on his own yet. And yeah, Lisa and Ken realize this, thank you very much, but they're still just glad he's working. They just want him to be more motivated and ambitious like them and his sister Pandora. Oh, and he needs to actually have his insurance and registration before he takes his car out for a spin. That would be nice.
Lisa and Ken are some of the hardest working people I've ever seen, let alone on reality TV. It must be daunting for Max to try to live up to that. But I do admire Lisa and Ken for their tough love approach. Max is never going to feel the need to branch out on his own if his parents always give him everything he needs to live.
It sounds like Max is on the right path. That is, unless he appears on Vanderpump Rules. That experience would probably destroy him.
Image: Tommy Garcia/Bravo; realitytvgifs/Tumblr (2)