Chris Hemsworth Is the Sexiest Merman Alive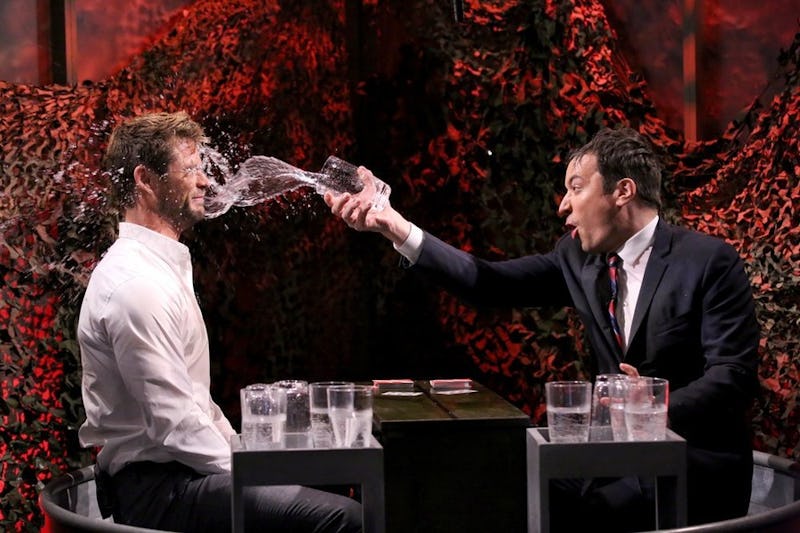 Wednesdays can be the roughest day of the week since Monday. After all, you still have an entire day of work to get through on the middle of the week, and two more days separating you from the weekend. Jimmy Fallon knew that, and that knowledge is likely what resulted in the playing of a very important game during The Tonight Show on Tuesday. Chris Hemsworth appeared as a guest to promote his upcoming film, Blackhat, and Fallon sat down with the actor to play a rousing game of Water War. I repeat: Hemsworth was doused with water on The Tonight Show — while wearing a white shirt, no less. Anyone who was still doubting that he is truly deserving of the honor of being People's Sexiest Man Alive is probably watching this video on repeat.
Of course, Hemsworth already informed the world that he is taking the title of Sexiest Man Alive very seriously on the TODAY show Tuesday morning, but those are just words, words, words. This, on the other hand, is a video of Hemsworth getting sprayed with water until his shirt is see through. It's just much more compelling evidence, you know? The rules of the game are simpl:. Hemsworth and Fallon each have half a deck of cards, and they are playing War. Whoever puts down the card that is worth the highest value gets to throw a glass of water in the loser's face. The first person to throw all five of their glasses of water at the other played gets to shoot them with the world's largest Super Soaker.
As you might be able to tell from, you know, this entire article, Hemsworth is the big loser of the competition. However, the exact way in which he loses is enough of a hilarious twist that the video is worth checking out anyway. Of course, I did inform you that this was a clip of Hemsworth being sprayed with water until his white shirt becomes see through and then dancing around while Fallon sprays him with a Super Soaker. If anyone is still reading this article instead of jumping straight to pressing play, then I truly commend your self-control.
Check out the hilarious clip below.
Image: Douglas Gorenstein/NBC