Rewatching '30 Rock' is a Trip Down Dum Dum Lane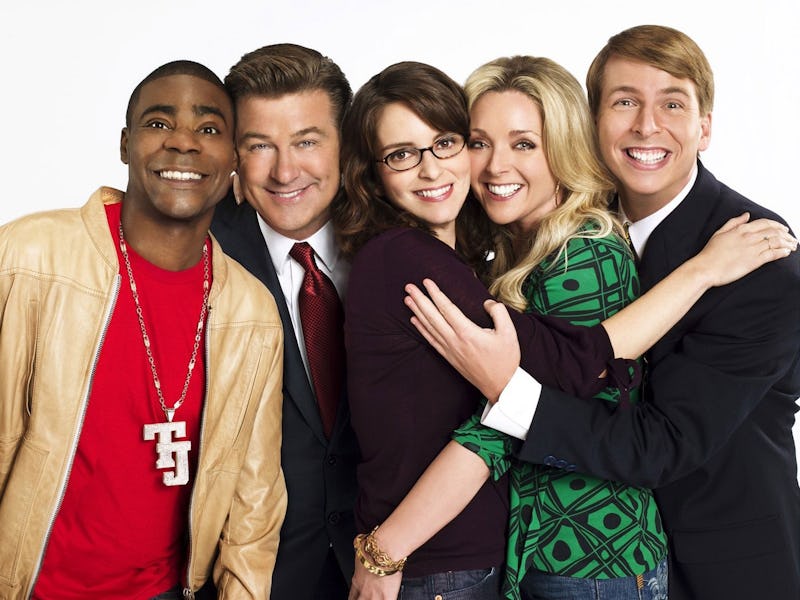 Even though 30 Rock has sadly been off the air for two years now, it's still my go-to show for everything: a bad day at work, a break-up, background noise for cleaning, or just straight up vegging out on Netflix like it's no one's biz. Every week I still get my Liz Lemon fix and it just feels so right. In my constant 30 Rock -athon-ing, I decides to re-watch the pilot episode. Pilots are overall and in general, not the best work of a series. They often feel clunky and a little bit off from the show you came to grow and love. I have to hand it to 30 Rock, as far as pilots go, they did one heck of a job.
The overall vibe, style, and humor of the series is there in the pilot. What's perhaps most jarring is the relationships the characters have between one another. Liz is suspicious and angry towards Jack and she's weirdly ...admiring of Tracy Jordan. When I watched the pilot, I was yearning for the closeness all of the characters come to have. In their table-flipping, funerla-ruining ways... the bonds that tie all of those nerds made the show. Along with that major hole, here are a few other things I noticed while watching the 30 Rock pilot.
Liz Lemon has the WORST Hair
And what seemed like purposefully washed-out makeup.
Tracy Was Way Less Crazy
Sure he sang, "Love is a Battlefield" on the stage of Dark Sensations, but there was some deep social meaning behind it.
Liz Lemon Was in Control
Her dependency on Jack made Liz less self-assured over the years. In the pilot, she's indignant when he tries to change her show and stands up for her staff.
Liz Lemon's Love of Food is Eternal
You cut in the hot dog line, prepare to get BURNED.
Cerie is Christine Taylor's Doppelganger
Seriously, how was this never discussed?
Rachel Dratch's Appearance Was a Recast
Yep, though she played the cat tamer in the pilot, she was actually meant to play the role of Jenna. They shot the first pilot with Dratch and then recast Jane Krakowski.
Cool it With the Shaky Camera
So much shaky cam in the pilot! It's Primetime TV, not a horror movie.
Remember that Time Jenna had a Thing for Jack?
Yick!
Griz & Dot Com Aren't Their Lovable Selves
Gimme that sweet, soft entourage!
Tracy Has Actual Political Goals with his Comedy
His brand goes from shock political comedian to....well, you know. His consciousness became overshadowed by the crazy.
Jack is at the Whim of Tracy
Since when is Jack Donaghy at the whim of anyone other than Nancy Donovan?
LEMON, OUT!
Images: NBC(2), slayerage;30rockasaurus; televisionwithoutpity;thelastcon; mcbrayers/ Tumblr, giphy , janeintraining; lifesucksthenyouregenerate; bodiebroadus/Tumblr