Charli XCX & Rita Ora's "Doing It" Video is Crazy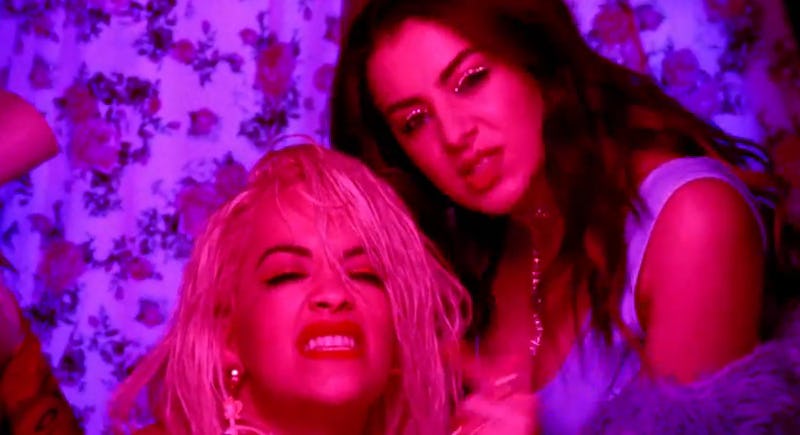 Although Charli XCX can clearly hold her own on any song, adding Rita Ora to "Doing It" was still a smart move. They have great chemistry and they also both seem like they're really into having all types of spur-of-the-moment fun. Recently, Ora showed off her spontaneous side by recording a maritime rendition of Beyoncé's "7/11" video where she showed us what yacht life is really all about. And in case any unfortunate individual has yet to comprehend the complete and utter awesomeness of Charli XCX, allow me to refer you to Bustle writer Kristie Rohwedder's expert breakdown of why she dreams of being Charli XCX, aka pop star extraordinaire.
If you still don't get it after reading that, then I feel bad for you, son. But wait — there's more: the video for "Doing It" will make a Charli XCX fan out of anyone, and that's mostly because it's filled with so many insane moments. Just to give a bit of a hint of what's to come, Charli and Rita play two really sexy bandits who hit up a roadside store and make a great escape in a pink pickup truck. Barely 30 seconds into the video, an older guy struts onto the scene and flashes some major butt cleavage. Basically, it's that kind of video that requires a few watches in order for you to grasp all the craziness.
Here are the 5 most insane moments from the "Doing It" video:
This Guy Dancing in a Leopard-Print Speedo
I couldn't help but stop and glare at this older gentleman who appeared to be super pumped about dancing around in his skivvies with Charli XCX. Blame it on the alcohol, or whatever's in his cup.
Rita & Charli's Robbery Outfits
With these flashy getups, Rita and Charli clearly were more concerned with flaunting their heist chic ensembles and less worried about the increased likelihood of being identified in a police lineup.
This Naked Cop Riding a Mechanical Bull
Yep, you read that correctly — he's a cop, and he's almost naked, except for the golden tassel pasties and his underwear. I'll blame his spontaneity on the presence of the mechanical bull, which virtually guarantees that something crazy is about to go down.
This Guy Again...
This totally reminds me of one of those scenes pulled from old mobster surveillance footage, but since he comes bearing a tray of colorful treats, I assume he's not that huge of a threat.
The Best-Worst Choreography Ever
Eight-counts and rhythm be damned. Other than Charli and the little girl in the yellow dress, no one in this shot was worried about how they looked dancing. Apparently, they still had a good time just doing it.
Watch "Doing It" in its entirety below:
Images: officialcharlixcx/YouTube (6)