Big 'Walking Dead' Spin-Off News, Guys. Huge.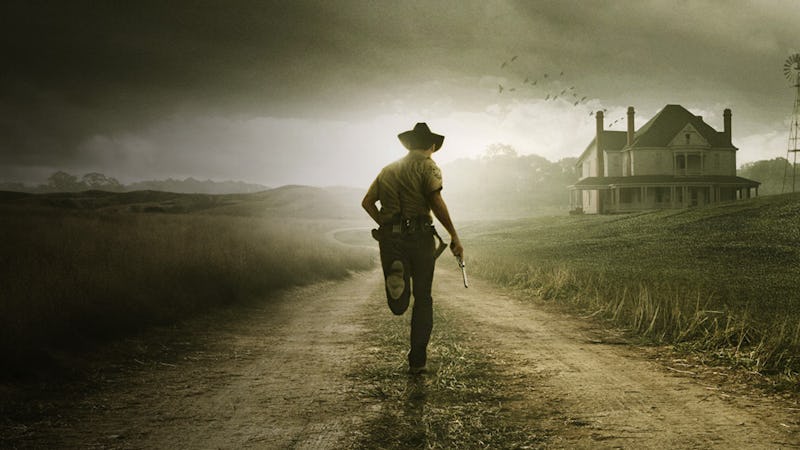 Although everything we've been told so far about The Walking Dead's upcoming (still officially untitled...c'mon AMC, I'm dying here!) spin-off has pointed to there being no possibility of crossover between the two shows, it looks like that piece of info may have been been leading us astray all along: According to Nerdist, The Walking Dead and its spin-off will have some interaction after all, and it's all happening in the form of a character guest arc set to go down during season 6.
INTRIGUING. Specifically, according to Nerdist, at least "one of the characters who will be leading The Walking Dead spin-off will be appearing for a 6-episode arc in season 6 of The Walking Dead." That's right: The crossover is happening, and it'll be way sooner than expected. Even better, it looks like the character will cross paths with Rick Grimes and the rest of the group, so we'll get to see plenty of interaction between Walking Dead mainstays and this newbie. For every bit of pain The Walking Dead delivers with its plots (I'm still mourning poor, sweet Beth over here), it definitely manages to make up for it with presenting exciting news like this.
Anyway, it doesn't look like the identity of the spin-off character participating in this crossover has been revealed yet, but choices are likely one of the previously reported main characters: Cliff Curtis' divorced teacher character, Kim Dickens' guidance counselor character, Alycia Debnam Carey's overachieving daughter character, or Lord Voldemort. Ahem — I mean Frank Dillane (who starred as young Tom Riddle in Harry Potter!)'s troubled son character. Since the spin-off series has been reported to be a sort of prequel series to The Walking Dead that will take place right at the beginning of the zombie apocalypse (when Rick is comatose, somehow not being eaten alive in his hospital bed by a walker nurse), it's likely that whichever character we meet will be an older version of who we're going to meet in the spin-off.
(Personally, I'm rooting for the character to be Dillane's, because I really want to see if the killing curse will work on walkers.)
As Vanity Fair reported, the spin-off is rumored to be titled Fear the Walking Dead based on a unverified "leaked" script, but I'd take that rumor with a grain of salt considering we've received no studio confirmation of the title.
Anyway, it's not clear when we can expect the spin-off to air, but, fret not: Season 5 part 2 of The Walking Dead will be back in our lives on Feb. 8, on AMC.
Image: AMC