'Doubtfire' Musical Totally Needs A Cake Face Mask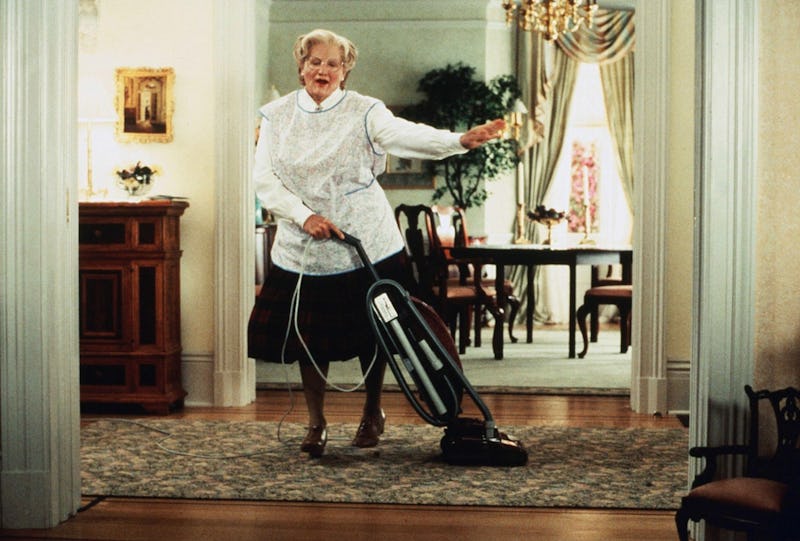 Holy Euphegenia! A Mrs. Doubtfire musical is really happening. Thursday morning, Academy Award-winning composer Alan Menken (the man behind the scores of The Little Mermaid, Aladdin, Pocahontas, Hercules, Newsies, Enchanted, and, like, 10 million other great movies) told Entertainment Weekly Radio that he's working on tunes for a Mrs. Doubtfire musical. The details don't stop there: Menken told EW Radio that David Zippel (whose lyrics-writing credits include Hercules, Mulan, and more) is penning the lyrics, and Broadway legend Harvey Firestein (!!!!) is writing the book for the stage adaptation of the beloved Robin Williams movie.
Look, I'm not going to sit here and pretend like I'm a musical theater expert, but that doesn't mean I can't tell that this particular musical sounds like it's in TERRIFIC hands. Menken, Zippel, and Firestein is a trifecta of awesome.
But for a moment, let us imagine I was a musical theater expert. And let us imagine I wasn't any ol' musical theater expert, but one of the musical theater experts standing at the helm of this musical. What would I be sure to incorporate into this adaption?
Oh, you bet I have a list. Here are some of the things from the Mrs. Doubtfire movie that I hope end up in the musical:
A Run-by Fruiting
Makes me laugh like a maniac every time.
Cake face
It'd be a mess, sure, BUT IT'D BE HILARIOUS!
Fire boobs
I know next to nothing about special effects of the theater, but I assume fire boobs can be done (safely, of course). It's 2015, after all.
Hot dog impression
If nothing else, the Mrs. Doubtfire musical better feature an impression of a hot dog.
Image: 20th Century Fox