Get Your D'aww & Drink on During Puppy Bowl XI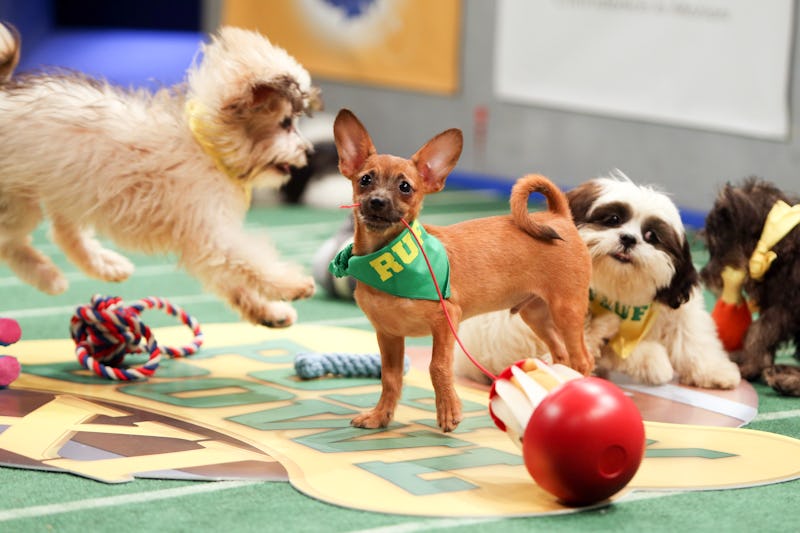 The 2015 Super Bowl is here and although I'll watch the game on Sunday, Feb. 1, I like something less controversial — and that's why I tune into the Puppy Bowl on Animal Planet before the Super Bowl. Yet, sometimes adorable puppies rolling around on a fake football field are not enough on their own, which is why I have created this Puppy Bowl drinking game. Not only will the drinking game make you cry little tears about the unbearable cuteness of the Puppy Bowl, it will also perfectly numb your senses before the Super Bowl (for those of you having issues with supporting the NFL, but don't want to miss the big game like me). The Puppy Bowl starts at 3 pm, so make sure you've got your afternoon drinking shoes on because it's going to be a long day and night of debauchery and puppies — lots, and lots of puppies.
Since the Puppy Bowl is inspired by football, let's go over some ground rules:
Have booze — any kind (I'm not your mother, I can't tell you what to drink)
Choose a team to win — Team Ruff (in green) or Team Fluff (in yellow)
Be ready to drink — clearly, the most important rule
Now, I don't like a lot of rules with my drinking games, but let's up the ante here. Grab a bowl. (Any bowl would work, but we are shooting for a dog theme here. You could even grab your own dog's drinking bowl — as long as he/she won't rebel.) This is your official "Puppy Bowl." The drinking game rules will instruct you to pour your drink into the bowl and (like a rousing game of Kings) have one lucky person drink the concoction at the end.
To play with the "Puppy Bowl," you must choose a dog beforehand that you think will be the Puppy Bowl XI MVP (Most Valuable Puppy).
Let the games begin!
1. Every time you audibly "aww": Take a sip
This is going to happen a lot — and we want to keep things classy for a bit.
2. Whenever a puppy pees on the field (C'mon Dawg!): Drink
You may also "aww" when this happens, so make sure you sip and drink. We're not the Patriots here — we play by the rules.
3. Anytime there is a dog-football pun: First person to catch it assigns someone to drink
You're going to have to be on your game since the puns will most likely be like Liam Neeson: Non-stop.
4. When a puppy falls asleep on the field: Chug your drink
The puppies are just so sleepy (like you will be after this game).
5. When the humans hosting imitate the puppies: Finish your drink
The Puppy Bowl XI Pregame Show already featured this, so I'm expecting big things.
6. TOUCHDOWN: Pour one out in your "Puppy Bowl"
Why not take a sip yourself while you're at it.
7. Anytime animals other than dogs are shown: Drink
There are bound to be hedgehogs and kittens galore.
8. During the Kitty Halftime Show: "Rinse your bitch out"
"Rinse your bitch out" was a rallying cry used by my friends in college to finish a drink before heading out for the night. This is the perfect time to do that since you'll be taking a break from the actual "bitches" on the field.
9. If the team you chose wins: Take a shot!
There's a strong possibility that there may be some sort of tie, so then everyone can celebrate!
10. If your chosen dog wins MVP: Drink from your "Puppy Bowl"
Congrats! You've officially won the Puppy Bowl! Savor your sweet, perhaps terrible tasting, drunken victory.
There you have it! Now you'll be officially all set to watch the Super Bowl super sloshed.
*No puppies were harmed in the creation of this drinking game.
Images: Damian Strohmeyer/Animal Planet; Giphy (11)