Could Lucious Lyon Die In 'Empire's First Season?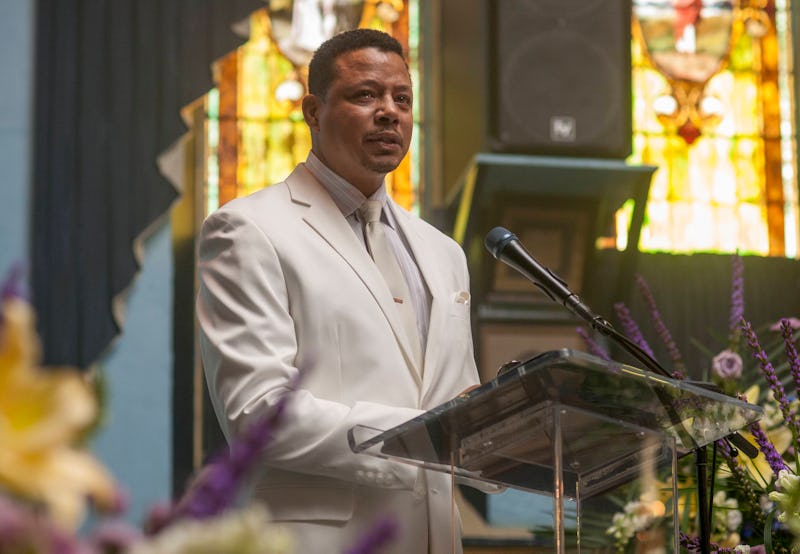 It's a little bit ironic that FOX's new musical drama Empire, which marketed itself largely on the name recognition of its Academy Award-nominated star Terrence Howard, started its pilot episode by immediately placing said star in mortal danger. And yet that's exactly what co-creators Lee Daniels and Danny Strong did: at the top of the show's first hour, audiences saw Howard's Lucious Lyon at the hospital. Later that the premiere of Empire , we learn that Lucious has ALS, the same disease that inspired this summer's ice bucket challenge. Formerly called Lou Gehrig's disease, ALS is the same illness that afflicts Stephen Hawking, as so memorably portrayed by Eddie Redmayne in this year's Oscar contender The Theory Of Everything.
The writers hedged their bets when Lucious' doctor informed him that he probably has about three years left to live... but "maybe more, maybe less." An educated guess, then, would state that Lucious will pass away sometime around the Season 3 finale, right?
Unfortunately, not only is ALS incurable, but it's also unpredictable — Hawking was diagnosed at the young age of 21, and he's now 73 and counting, so the disease can move more slowly than suggested. Conversely, the disease could move faster than expected; in the most recent episode, Lucious started experiencing cramps sooner than the doctor had predicted. Does this signal that he could have a shorter life expectancy than imagined? But Howard is Empire's biggest star! He's on all the posters! Surely they won't kill him off in the first season, right??
In this post-Game Of Thrones world, never assume anyone is safe — even if they are the biggest name in the cast. Besides, it's not like Empire would lack respected actors if Howard left — co-stars Taraji P. Henson and Gabourey Sidibe both have Oscar nominations to their names as well, for The Curious Case Of Benjamin Button and Precious, respectively. (And in fact, they're both probably more "respected" than Howard anyway, considering the six allegations of physical abuse that have been levied against the actor by ex-wives, girlfriends, flight attendants, and complete strangers.)
So will Lucious last for one season, three years, or well into his 70s? It's hard to say, although we can take a look at Empire's inspiration for some clues. The series is ostensibly based on Shakespeare's tragedy King Lear, although it also bears much in common with the 1966 play The Lion In Winter . In the latter, the protagonist, Henry II, survives the events of the play — although the real king went on to die of a bleeding ulcer at the age of 56 after being defeated in battle by his eldest son Richard. In Shakespeare's version, the addled king perishes from grief after his youngest daughter, Cordelia, is executed.
Will Lucious finally succumb to his illness after Andre wrests control of Empire Records from him? Or will he do himself harm after his actions lead to the death of hot-headed Hakeem? Perhaps a combination of the two? Either way, don't be too shocked if Lucious doesn't make it through the events of Season 1 alive, no matter what medical prognosis he is given.
Images: Matt Dinerstein/FOX; thegameofthrowns/tumblr