These Are the Most Gorgeous Wedding Photos Ever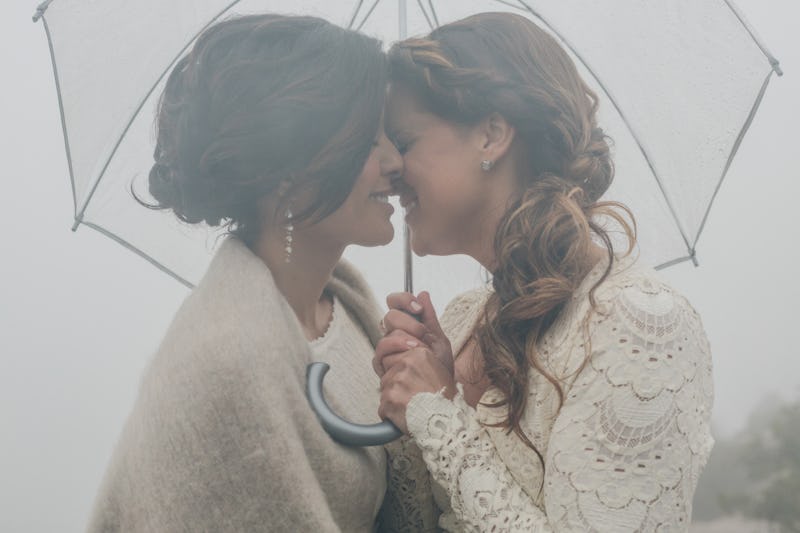 Tucson couple Angel and Monica had been together for eight years when the gay marriage ban was overturned in Arizona this past fall, and like many LGBT couples, they couldn't wait to finally tie the knot. So they got in touch with Steph Grant, a photographer based out of Dallas, Texas who specializes in LGBT weddings and engagement shoots, in the hopes that she'd be able to photograph their wedding in December — and you guys? Grant took the photos, of course, and they are beautiful. They're the kind of thing that restore your faith in the world whenever it seems like everything else is too awful for words. Get ready to cry big, giant tears of happiness, everyone.
According to Grant, Angel and Monica contacted her just a month before their wedding. They knew from her website that Grant was going to be in Tucson at the beginning of December, so they reached out via email to see if she might be able to squeeze them in. There was just one catch: They hadn't expected the gay marriage ban to be overturned so quickly, so they didn't have the months of planning behind them that a lot of spouses-to-be have. "We're not sure we can pull something together (or decide what exactly we want) by the time you are here but would absolutely LOVE to at least meet you," they wrote according to Grant's blog post about the shoot; they also emailed along some pictures of themselves, their daughter, and their dogs.
Grant couldn't say no to that, so they started hashing out the details. A small, intimate ceremony appealed to the brides, so initially they'd thought they'd go for a courthouse wedding — but when Grant sent Angel and Monica a video a few of her friends had shot on a secluded mountaintop, they fell in love with the idea of getting back to nature. They responded with some favorite photos of Mount Lemmon, located in the Coronado National Forest north of Tucson, and the rest spun out from there. It was rainy and foggy the day of the wedding, but that didn't stop the entire crew from making the absolute most of a beautiful moment. Given how stunning the photographs are, I can only imagine how amazing the whole thing must have been in person.
Said Angel to Cosmopolitan, "Together we are raising a beautiful and confident daughter, and we're always looking for the next adventure. I call [Monica] my 'all in one' because she is my soul mate, best friend, my side kick, and sometimes she irritates me like a sister. I am so thankful we live in a time when I can legally marry my all in one." True. That. For all the backwards steps we seem to taking these days, sometimes we just need to stop and remind ourselves how far we've come. Change may be slow in coming, but when it finally arrives? It's so, so worth it.
If Grant's name sounds familiar to you, by the way, it might be because of the photos she shot of an Indian LGBT wedding that went viral in 2013. Seema and Shannon got married in June of that year; the ceremony combined the traditional North Indian wedding traditions that were so important for Seema with the American elements that were equally important for Shannon. As is the case with Angel and Monica's wedding pictures, the photographs from Seema and Shannon's wedding are a reminder of just how wonderful the world can be.
Grant also donates a portion of her profits to the Trevor Project, a national organization that works to provide crisis intervention and suicide prevention services to LGBTQ youth. According to Cosmo, she plans to give away a free wedding package to one LGBT couple when marriage equality is passed in Texas — hopefully this year. Head on over to her website to see more of her work, including the full photo set of Angel and Monica's wedding. Awesome? Awesome.
Images: Courtesy Steph Grant Photography