You'll Swoon For Charlotte Olympia's V-Day Capsule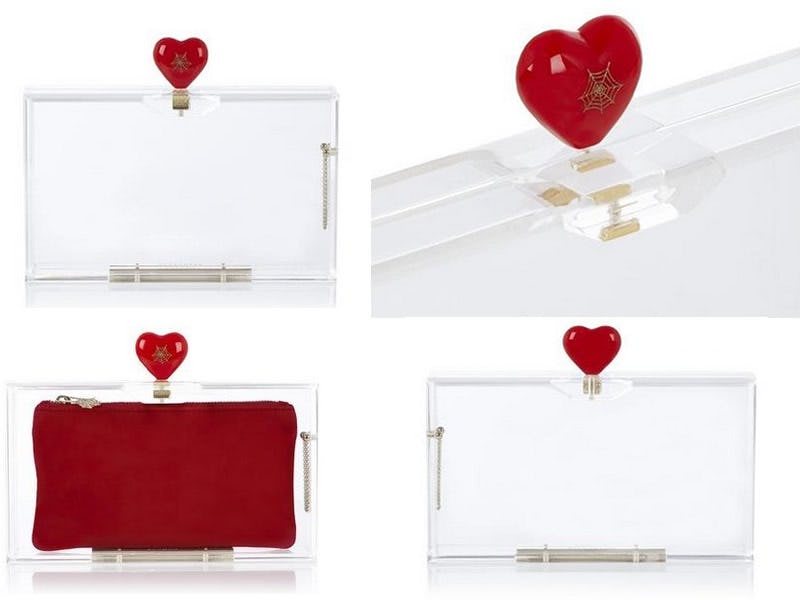 I've had a fairly long-standing obsession with Charlotte Olympia — it was love at first sight when I first laid eyes on the Kitty & Co kitty flats last year, and it's all been downhill from there. There were the blue suede Betty and Veronica pumps, the (to die for) mid-century art-inspired shoes, the Eastern Cosmic Chinese zodiac loafers (how I long for a pair to ring in Chinese New Year with)... each new line has made me fall a little deeper in love, and the recent Charlotte Olympia Valentine's Day capsule collection has me firmly caught in Cupid's crosshairs.
The collection itself is short and sweet, but it has everything you could possibly want for the most whimsically fashionable Valentine's date night outfit ever: my favorites include the shiny red heart-clasped clear acetate clutch (cheekily named "Love, Pandora," because of course), and the flutterby red, purple, and orange heart-covered sky-scraping sandals. Can you imagine striding into your date accessorized like that? Heck, they probably imbue their wearers with special Aphrodite powers (or Artemis powers, if the date isn't going so well, see: ACTAEON) for a date night that would absolutely slay (in the manner of the word you most prefer). Let's take a look some of the pieces, which will be released in February:
Head Over Heels
Love, Betsy
Cupid
Love, Pandora
So mesmerizingly pretty.
Images: Charlotte Olympia