8 Love Stories Told In Unconventional Ways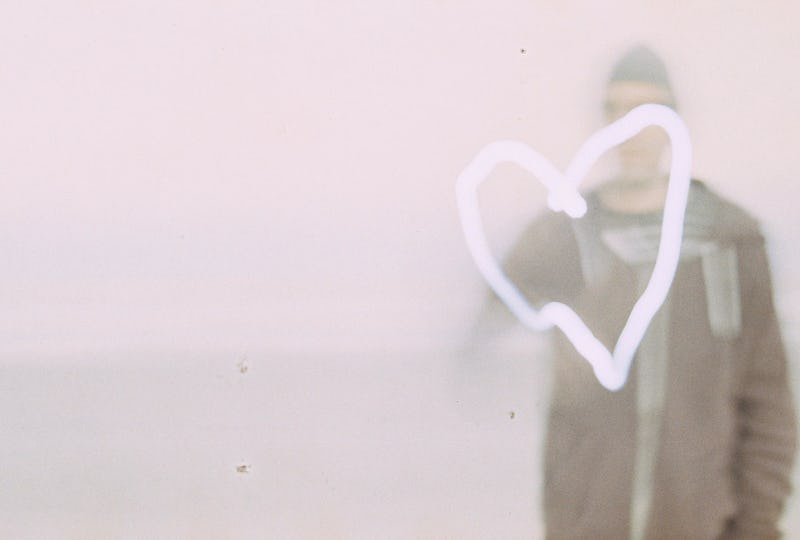 As cynical as we can all be this time of year, there are still a lot of positive outlooks we can take away from Valentine's Day. Reminding ourselves of the love that surrounds us — whether it exists in the form of a romantic relationship, a friendship, family, an object, or an idea — is just one way for Valentine's haters to feel better about the holiday.
Valentine's Day sparks conversations and stories about love, and listening to even two or three only further proves that love — what it means, how it works, how it affects us — is different for everyone.
That being said, there are still common elements in every love story that make us feel warm and cozy inside, no matter how different they might seem on the surface. Here are eight love stories told in unconventional ways, celebrating different kinds of stories for different kinds of love:
The Lover's Dictionary by David Levithan
Told by an anonymous narrator, The Lover's Dictionary is the story of one couple's difficult relationship told entirely through alphabetical (not linear) dictionary entries. Regarding its unique structure, Levithan told NPR , "When you think about a relationship, you think about a good thing and then a bad thing. You have something that really annoys you, but then you remember a really sweet and tender moment, and that's the complicated nature, I think, of all relationships."
Landline by Rainbow Rowell
More often known for her work in the Young Adult genre, Rainbow Rowell entered the world of adult fiction last summer with Landline. Still very much a Rainbow Rowell novel — filled with quirky love stories and charming, relatable prose — Landline follows Georgia McCool, a TV-writer as she tries to save her marriage through a magic phone that connects her with her husband in their early years of dating.
Griffin & Sabine: An Extraordinary Correspondence by Nick Bantock
A love story told through beautifully illustrated postcards and letters, Griffin and Sabine is a charmingly visual novel that follows London-based artist Griffin Moss and Sabine, a mysterious woman on a tropical island far, far away. While readers aren't entirely sure if were reading something truly genuine or a concerning descent into madness, it's impossible to deny that this book is anything short of fascinating and innovative.
The Particular Sadness of Lemon Cake by Aimee Bender
A story about how difficult it can be to love someone after knowing way too much about them, The Particular Sadness of Lemon Cake is the story of nine-year-old girl, Rose Edelstein, who discovers that she can taste her mother's emotions in the birthday cake she's made for her. From then on, food is a both a curse and a gift for Rose.
History of Love by Nicole Kraus
Seventy years before the present, a 10-year-old boy from a small Polish town falls in love with his neighbor Alma, to whom he writes books for the next ten years. Sixty years later, a 14-year-old American Alma goes on an adventure to find her namesake. Kraus weaves these stories together in a unique, exhilarating, and beautiful way.
Schematics: A Love Story by Julian Hibbard
This gem of a book tells a love story through geometric diagrams paired with short, simple prose printed on black cardboard, mirroring how big and small love can simultaneously feel at times. Not only is Schematics visually interesting, but it will challenge you to think about love in various spectrums.
A Visit from the Goon Squad by Jennifer Egan
Jennifer Egan's A Visit from the Goon Squad isn't usually thought of as a stereotypical or romantic "love story." But as it weaves through different narrators and plots nonlinearly and in unique formats (one chapter is told in graph form) to tell the story of Bennie, an aging rocker/record exec and Sasha, his employee, we learn about love through non-romantic ways — friendship, family, and music.
Love is a Mixtape: Life and Loss, One Song at a Time by Rob Sheffield
I wish that cassette mix tapes were still a common practice. It was just so much work work than a CD or Spotify playlist — it makes me think that they were that much more of a romantic gesture. In this memoir, Rob Sheffield (a previous staff writer for Rolling Stone) tells the story about the love of his life, Renee, with whom he exchanged mixes for every occasion — from washing the dishes, road trips, and eventually, to mourn her loss.
Photo: WilB/Flickr