How To Wear Your Lingerie For The World To See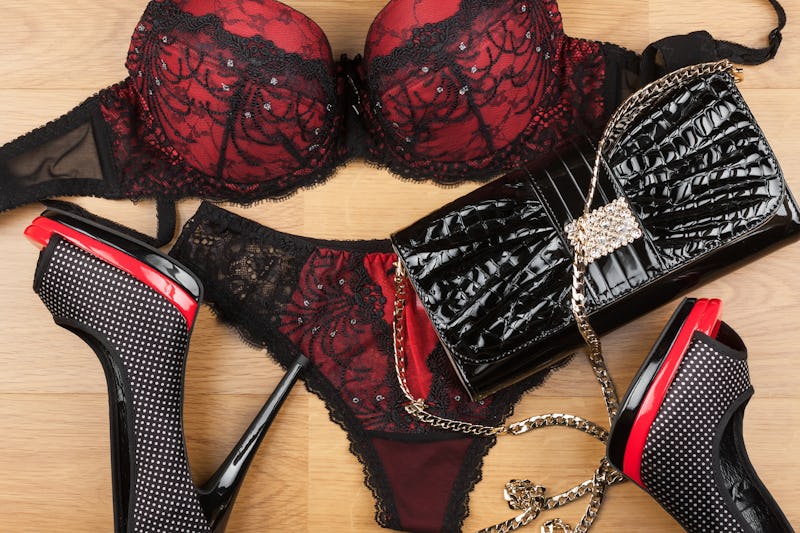 I know that many of you are experiencing ridiculous blizzards or polar vortexes right now, and the idea of wearing anything but 100 layers of warm sweaters is going to sound awful to your current self. Suggesting that you wear lingerie in place of said sweaters is sure to inspire some massive skepticism, but stick with me here. Just because it's freezing out doesn't mean that we have to sacrifice our sense of style. Trust me, I wrote that sentence as a reminder to myself as much as y'all — my oversized sweater, denim, ankle boot, statement necklace combo is getting completely tired. For this femme, I start to get my groove back around Valentine's Day. I actually sort of despise the "holiday" (I refuse to dignify it by lack of scare quotes), but love all things delicate and frilly. Lingerie is my catnip and I'm practically rolling around on the ground in a pile of it at this time of year.
My advice: Don't get dressed up just to try and get a date — if they don't love you in your cat lady t-shirt and jeans, they're not worth it TBH. Don't even get dressed up for a galentine's day party if you don't wanna. But if you've been feeling like you could step your fashion game back up to really feel like yourself again, I'm here to tell you to let lingerie be your muse. I mean, it's practically the polar opposite of that sweater dress you've been wearing nonstop.
I always joke that wearing killer lingerie under my clothes (and donning full eyebrows, but that's another story) is the armor I use when I'm feeling blah or when I have important shit to do and need some girl power inspo. So why not wear your armor on the outside, babes? Here are some handy styling tips to do just that:
ROMPER OR ONESIE
After Dark Romper, $35, ohhhcanada.ca
This is hands down probably my favorite way to wear lingerie. It makes me feel super sexy without being uncomfortable about how much skin I'm showing. Depending on the style of your onesie, you may be able to (or you may want to) wear a cami or solid bodysuit underneath. Simply tuck it into an a-line skirt or pair of jeans, add ankle boots, and go! Pair with a scarf and blazer or denim jacket if you're wanting to play it more conservative. In the summer, this is the perfect concert outfit because it helps you keep it breezy while still looking good.
BRA
Ahrnsbrak Bralette, $60, marchanaugust.com
If you're planning on showing off your bra, a longline style will be your best friend. This handmade bra would look stunning peeking out of an infinity cardigan or a wrap dress. The longline style adds a bit of extra coverage to make it more versatile — and it's totally acceptable to wear under a sheer blouse in my books!
SLIP OR TEDDY
Flor Babydoll, $60, adoreme.com
So maybe you don't think you can just, like, show your bra to everyone. Maybe you're into the idea, but want to ease into it. Showing off a bit of lace could literally not be easier than with a frilly little slip. In place of a cami under a loose knit sweater, wear one of these underneath instead. Choose black for subtlety or choose a sexy, bold color to call a little more attention to it. So cute you could wear it to brunch.
NIGHTIE
Exquisite Gown, $37, ohhhcanada.com
You can channel Emma Stone's dress-over-pants look so easily with this piece — people probably won't even know that it's lingerie! Scoring the look is simple: Just rock it with black tailored pants (ponte pants would be perfect here) and a white cami underneath for contrast. A tuxedo-style blazer or moto jacket would be the perfect topper.
CORSET
Limited Edition Cutout Corset, $128, victoriassecret.com
Perhaps the most daring of them all, rocking a corset pretty much requires you to have a little bit of courage. If you're shy about cleavage, this is probably not the thing for you. Choosing a corset that's intricately decorated and that looks more like a really fancy top helps it land in the "is it or isn't it" category. To dress it down for day wear, pair it with lightly distressed jeans and an oversized cardigan. A pair of oxfords will help to offset the extreme femininity of the piece. To wear it out, I say embrace the lace and simply pair with some great pants and heels. Colored pants, red especially, would look stunning.
Images: Fotolia; Courtesy Brands