'Southern Charm' Season 2 Looks Dramatic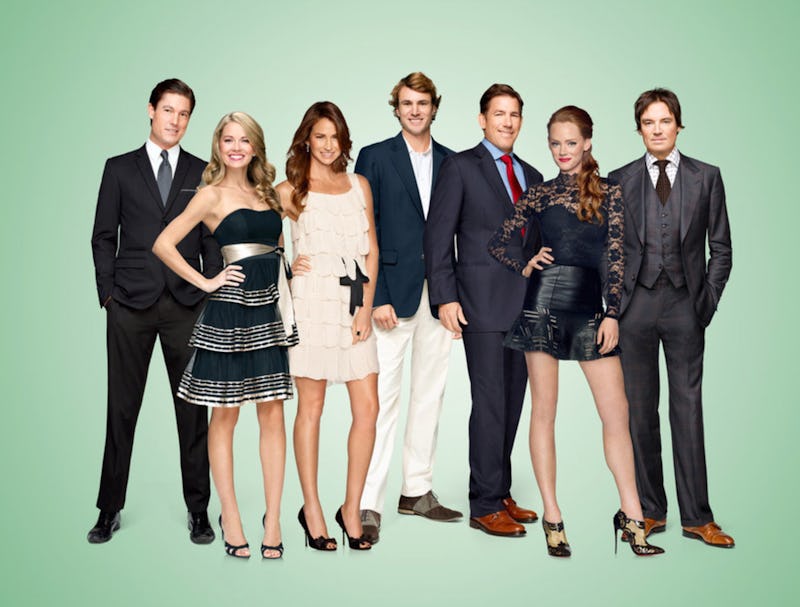 It's been nine months since the first season of Bravo reality series Southern Charm drew to a close, and I have missed it dearly. So imagine the look on my face when a 30-second promo for the second season of Southern Charm popped up in the middle of a commercial break during Monday night's Vanderpump Rules. If the promo is to be trusted, Season 2 looks like an outstanding dramafest. I am putting on my polo helmet now. Here's what I know after watching the sneak peek: Original Charmers Thomas Ravenel, Cameran Eubanks, Shep Rose, Whitney Sudler-Smith, and Craig Conover are back for Season 2, but glove maven Jenna King is not. Womp womp. Joining the main ensemble is Season 1 supporting cast member (and unofficial star of the show) Kathryn Calhoun Dennis and newbie Landon Clements.
And as for what I definitely do not know after watching the sneak peek? Oh, you bet I have questions:
Who is Shep opening the door for?
Might Shepard Rose be courting a new ladyfriend?
Has Shepard Rose found ~tRuE LoVe~?
Or does Shepard Rose moonlight as a chauffeur?
I still want to be friends with Cameran. How do I make that happen?
OoH, what's the "Southern mischief"?!?!?!?
Does the cast get really into playing the N64 game Mischief Makers ?
What are Kathryn and Craig drinking? Looks delicious.
Kathryn and Craig spent the night together on the beach???
What the heck is going on?!?!?!?!
Kathryn just hit Whitney????
And Craig pulled Kathryn off of Whitney?????????????
Where is T-Rav during this altercation????
Am I going to be able to handle this season?
Is it safe to assume I won't be able to handle this season?
Is Patricia Altschul the best ever? (Answer: YES.)
Does anyone slip and fall into that body of water?
Wait, what about the new cast member?
Why didn't Landon make the promo?
Who has a time machine? I want to time-travel to March 16 so I can put the Season 2 premiere in my eyes.
Image: Mathieu Young/Robert Ascroft/Bravo