Driving? There's An Apple Watch App for That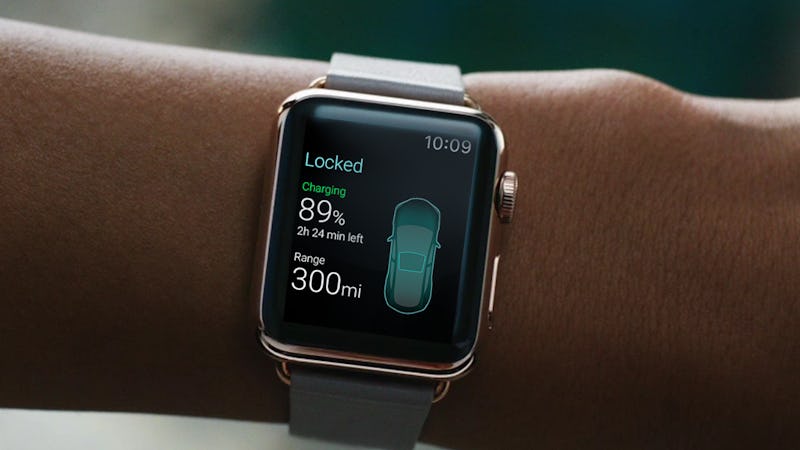 If you're the owner of a luxury Tesla electric car that just isn't fulfilling your desire for cutting-edge technology, look no further than a new app for the Apple Watch. Never mind that the Apple Watch hasn't been released yet — app developers are already preparing for its launch. Software company Eleks Labs has created an Apple Watch app that lets you control your Tesla car from your wrist.
According to Eleks Labs, the app "perfectly lines up with the concept of smart watches." With the app — which does not have a working name yet — drivers can open and close car doors, switch on the headlights, beep the horn, change the temperature inside the car, and see information about the car's location, condition, and battery life. All these functions will be available on six different screens, developed with WatchKit, a software development kit for enterprising Apple fans.
Though the Eleks developers have succeeded in creating an Apple watch app that will be able to easily control several important functions of a Tesla car, product manager Markiyan Matseh's blog post about the app makes it sound as if they may have had larger aspirations in mind with the app:
Although the opportunities seem pretty huge with Apple Watch, unfortunately, the current capabilities of the emulator-only development don't match the expectations set after the keynote. We can now confidently say that creating anything really necessary and fully functional for Apple Watch with the current SDK version is very, very difficult.
Don't get too excited; Eleks doesn't have an exclusive Apple Watch — the app is working not on an actual Apple Watch, but on an emulator. The app is not officially affiliated with Tesla or Apple.
Though the Eleks driving buddy might not be officially on the roster of Apple Watch apps, here are a few of the ones that Apple does promise to provide:
Apple Pay, which some tech lovers use instead of traditional methods like cash or credit.
Activity, for when you want to keep up your health regime on the go without going into your pocket to get your actual phone. The app includes three separate rings of activity — Move, Exercise, and Stand, in case you forget what you can do with your body.
Workout app "for intense cardio sessions." Potentially excessive, but then again technology is adapting to fit everyone, even the most dedicated marathon runners.
Calendar, Maps, and Passbook, just like you have on your iPhone — again, in case you need to look at your airline passes on an extremely small screen.
Apple TV and iTunes, as they are.
A remote camera. This is potentially the most interesting feature (aside from the Eleks app, of course). It serves as a tiny remote viewfinder for the camera on your iPhone. In other words, you can see what your iPhone sees without having to look through the camera on your iPhone.
Will we eventually be able to control everything with our new Apple Watches, including the steering wheels of our electric cars? Only time will tell.
Image: Eleks Labs (1)