How to Dress Androgynously (Kinda) on Valentine's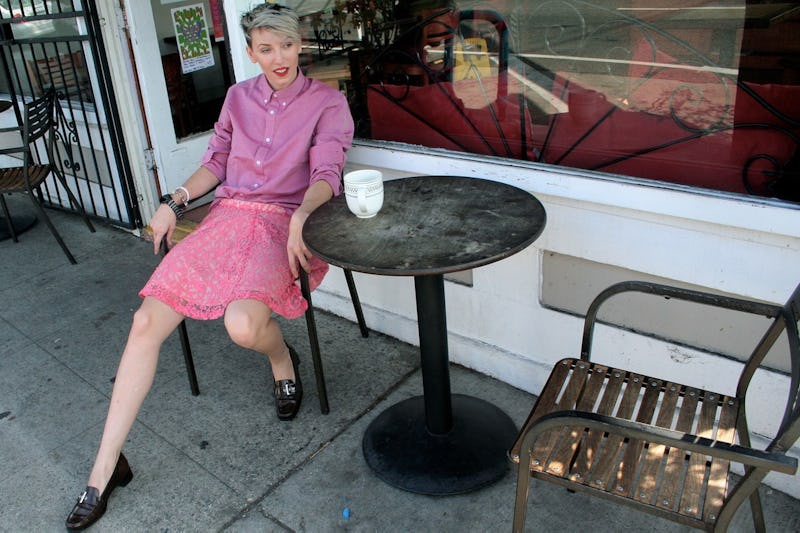 It's not even Valentine's Day yet and I'm already sick of the whole amorous event. If I have to read through another press release encouraging me to "blow his mind with this silky sweet satin lace bon-bon cocktail corset dress AS SEEN ON EMMA STONE!" — if I have to see another picture of red roses accompanied by a think piece on why cut flowers are actually responsible for global warming — if I have to look at one more hipster Valentine's card that smirks, "Let's eat tacos together forever" — I will lose it. I will swear off love forever and check myself into a convent.
I wasn't always the cold, cynical nun I am today. In fact, historically, I've been a major proponent of the day of love — we get to talk about our feelings and eat chocolate? Can every day be Valentine's? — but that was before Hallmark tied me in their basement and forced me to write love-themed puns for bread and water. This year, I'm just not feeling the idea of pink lace underwear with tiny, itchy bows on the side. You feel me, ladies?
Instead, I've been thinking about ways we can all embrace our tomboyish sides on this, the day of St. Valentine. You know: Forgoing the frilly red cocktail dress for Le Smoking; stealing beauty products from our hairier brothers; walking into the champagne bar with a bit of a Justin Bieber-ish swagger.
Obviously, if you're planning a frilly red cocktail dress kind of celebration, I love and support it. But if you're looking for an escape from all that, here are some ways to keep your Valentine's day fashion as cool as Julie Andrews holding a cigar.
[Mini disclaimer: These little scenes obviously aren't supposed to act as the Tenants of Androgyny, or anything like that. I just started thinking about neutrality, genderless cool, masculine style, feminine style, and went from there. Don't hold me responsible if the last step involves a hot pink book of Neruda sonnets, okay?]
Fancy fondue date? Skip all the colors and wear white.
White is part of the holy trifecta of Valentine's Day colors, but it's always getting overlooked in our grand race to find the fanciest Valentine's dress of all time. Everybody's always cooing over hot pink bandage dresses and red lace slips and completely forgetting about the one bright neutral that makes it all possible. Can you imagine a world in which the go-to Valentine's Day neutral was brown? Plus, white is as gender-neutral as they come and makes up half of the phrase "white hot." So the next time some charming individual begs you to stick tiny pieces of bread into melted cheese as a gesture of your undying affection, opt to wear fifty shades of cream.
Jacket, Somedays Lovin; dress, Free People
Casual hangout with yo' man? Steal his clothes.
Why are men's clothes always so much more comfortable than women's? SEXISM?! Anyway, if you and your date have decided to cuddle by the fire and watch movies instead of heading out in public, slip on a pair of his jeans in lieu of sweatpants. (Literal boyfriend jeans. Can you even? I mean, did you ever?) And if you're really feeling this whole steal-your-man's-menswear thing, filch one of his bow ties, and, um, wear it however you deem possible. (We tried to tie it in a bow, okay? We watched two YouTube tutorials.)
Jeans, Mott and Bow; bowtie, Nick Graham; sweater, thrifted; top, model's own
Galentine's sleepover? Wear a t-shirt that really says something.
There are times in life when a lady should be subtle. This is not one of those times, and this is not one of those t-shirts.
Shirt by 1964 Threads, from the Androgyny section of Helpsy; underwear, Negative
Sexy night planned? Be a minimalist.
There are things people do on Valentine's Day that involve very special lingerie — like marching in Lingerie Parades and inventing apps that help you organize your underwear drawer! If you're caught up in the whirlwind of Valentine's lingerie, I want you to put down that push-up Victoria's Secret bra and back away slowly, ma'am. It's time for you to embrace the minimalist lingerie movement. Bras like this opt for sheer instead of silky, for mesh instead of lace. It's so much better that way. For your bottom half — instead of wearing something with a saccharine nickname like "French Cheekies" — grab yourself a pair of boxer briefs and call it a Valentine's Day. In fact, buy an entire pack, just for you. Real women don't always need to be stealing briefs from others.
Bra, Negative; boxer briefs, MeUndies
Blind date? Mix scents.
I don't know why you're going on a blind date on Valentine's Day, but I hope it becomes a story to tell the grandkids (and not the scary kind of story). Anyway, since you've never met this person before, you have no obligation to abide by any of their pre-conceived notions of you. What better time to get really, really radical and... mix a dude scent with a lady scent? I'm talking perfume plus cologne, baby! I'm talking gardenia-vanilla plus bourbon-smoke! I'm talking about creating a scent so blissfully androgynous that your blind date will literally have no idea who he or she is talking to! A human? A living perfume aisle? A figment of mist and flame?
As I write this, I must admit I'm slightly high on my own unique mixture of Kai perfume oil — one of the prettiest scents on the planet — and Clean for Men Classic Eau de Toilette, which is manly to the core. Once the fog settles, the resulting combination is seriously mystifying and alluring — a Manic Pixie Dream Real Person.
Afraid to mix two utterly disparate scents? Try Girl and Boy (pictured), a collaboration between EO and Got A Girl. They're designed to be worn together: Boy is "like walking in a forest at the edge of a meadow" while Girl "is in the meadow...but you can still smell the forest nearby." Aw, what a metaphor for love!
Casual daytime thing? Wear pink. But, like, dude pink.
I get it, I get it. You're just "meeting for coffee" because you're not quite sure where you stand with this person and you don't want to give them the wrong idea by accidentally showing up at their doorstep with ten thousand engagement rings, which is totally something you'd do since that Tommy kid from freshman year shattered your heart and you just can't seem to control your gestures of affection since. Ugh, why doesn't Tommy call anymore? Anyway, you're obviously not going to show up in a PVC corset, but it would be weird to pretend you "forgot" it was Valentine's Day. WHAT TO WEAR?
A pink shirt. A men's pink shirt. Give it the good old college half-tuck and you're as "let's just keep this casual, unless you don't want to be casual, in which case I'm totally down to not be casual" as they come.
Shirt, Hugh & Crye; skirt, H&M (old); shoes, vintage Prada
Big party to attend? Prep by bathing yourself in the tears of men — sorry, in male skincare products.
There are multiple ways to waltz through a room, trailing an aura of masculinity. You could wear cologne, or strap on a codpiece, or whisper "I am man, hear me roar" into the ear of every unwilling passerby. But a subtler way to tap into your inner dude is to raid your outer dude's bathroom cabinets. And honestly, what you'll find in the men's shower section is, quite frankly, refreshing. I can't be the only girl tired of shaving cream scents like "Copa Cabana Coconut Sexy Slurpie Wonder Woman Ultra-Hydrating Shave," can I?
Opt for totally androgynous products, like the Windsor Edwards ones pictured, or just stock your shower with men's products. You may have to show a little creativity when adapting them to your shower. Pre-shave scrub? More like leg exfoliator! (Oh, and the glasses frames are there because, um, real men always accessorize their photos?)
Glasses, Frameri; pre-shave scrub, J. Paul; hair and body wash, Clean for Men Classic; anchor soap, Windsor Edwards; peppermint toner, Windsor Edwards
Awkwardly timed breakup? You need a testosterone-infused arm party.
You are a terrible person for breaking up with someone on Valentine's Day. "But it's better to do it now than to live one more day without expressing my truth — " yeah, yeah, whatever helps you sleep at night. So if you are going to bring the emotional axe down on your lover's unsuspecting neck, you better have the wrist-gear to back it up. I'm not talking about brass knuckles — I'm talking about an arm party that's calm, cool, and androgynous, like wearing a watch designed for a girl and wearing a watch designed for a guy and topping it all off with a weird bracelet from the Androgyny section. You'll be twice as on time for your terrible mission.
Silhouette Crystal watch, Citizen; Axiom watch, Citizen; Diet bracelet by Matt Starr, from the Androgyny section of Helpsy
Night in by yourself? Read Neruda in your underwear.
YOU DON'T NEED A LOVER IN THE ROOM TO BE ALLURINGLY INTELLECTUAL! Note: not technically androgynous.