'Fifty Shades' Plot Explained In 'Sherlock' GIFs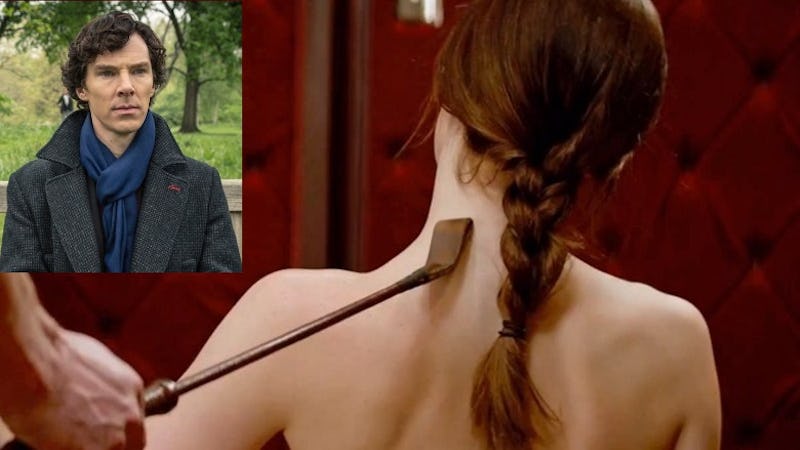 Unless you've been hiding under a rock for the past few years, chances are you're at least somewhat familiar with E. L. James' book-to-movie franchise Fifty Shades of Grey . (Seriously, the publicity for this thing has been literally everywhere.) And now that it's gearing up to make its silver screen debut, Christian Grey and Ana Steele are pretty much all anybody can talk about, including yours truly.
However, I'm sure there are still some of you out there who remain on the fence about the whole thing, questioning whether or not it's really worth your time. But perhaps that's just because you're still unclear as to what exactly the storyline is about. So, as a way to help keep everyone in the know, I've taken it upon myself to provide you with a full synopsis of the Fifty Shades plot using only Sherlock gifs.
Now I know what you're thinking — this girl has gone completely off her rocker. I mean, why Sherlock of all things? Well other than the fact that I will use practically any excuse to stare at images of Benedict Cumberbatch all day, it's also worth mentioning that these two popular franchises share some rather striking similarities, believe it or not. Not to mention that this super sleuth can be one smooth talker when he wants to be. So if anyone can convince you to give Fifty Shades of Grey a shot, it would be this guy. But let's start at the beginning, shall we?
Christian Meets Ana & Becomes Immediately Infatuated
He knows nothing about her, and yet he can't help but be captivated by her every move. In fact, he has a hard time even taking his eyes off her.
The Sexual Tension Continues to Build
Even though he knows he shouldn't, Christian keeps finding ways to bump into Ana and spend as much time with her as possible. It becomes harder and harder to fight their mutual… um… urges.
But Christian Has a Secret
A side of himself that he fears will frighten Miss Steele away.
He's Into BDSM
And an entire room dedicated for such kinky endeavors.
It's Called His Red Room of Pain
Don't let the name fool you, though.
The Room Is Mostly Made For Pleasure
Really, really extreme forms of pleasure. But pleasure nonetheless.
It Allows Him To Remain Distant From His Submissives
He is their dom and they are his subs. That is all.
Unless They're Doing Some Sort of Role Reversal Thing
You know, just to mix it up a bit.
But In Ana's Case, He Just Can't Help Himself
Despite his dark past and screwed up childhood demons, he falls in love with her.
Which Technically Makes This a Romantic Love Story
So just think of it like a twisted version of The Notebook and you'll be good to go.
Images: BBC/YouTube; Universal Pictures; imcherlocked/Tumblr; the-fandom-index/Tumblr; Giphy (3); adlockshippers/Tumblr (2); nellethiel-aranel/Tumblr (3)