A Timeline of Brandi & Yolanda's Friendship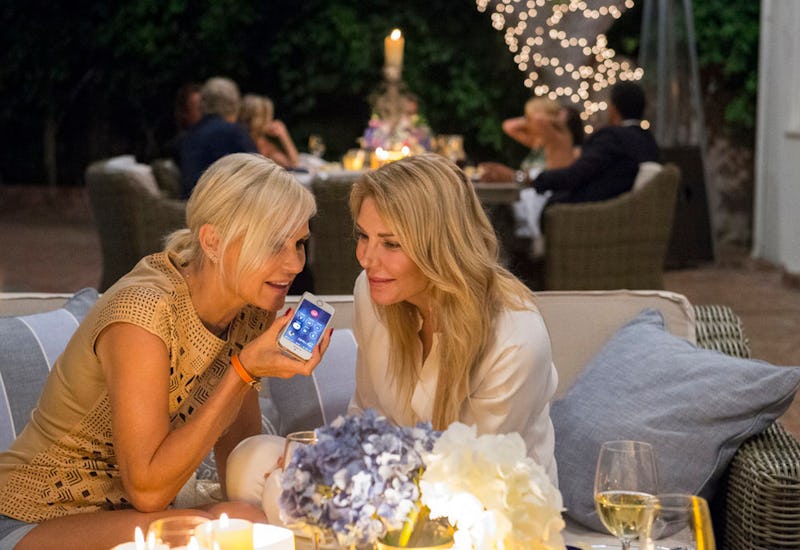 I love Brandi Glanville, but the woman is an instigator. She's smart and quick-witted, so she knows how to respond to someone's comments towards her — or about her — with a certain finesse that only Brandi could have. Sometimes the responses are funny; sometimes they are sharp and cutting. The latter is something we will see on Tuesday's episode of Real Housewives of Beverly Hills , when Brandi Glanville and Yolanda Foster get into a tiff after Brandi makes a comment about Yolanda's daughter being an alcoholic. In case this is a disagreement that causes a great divide in their relationship, let's look back at Yolanda and Brandi's friendship.
In the preview clip for Tuesday's show, Brandi and Yolanda are discussing the aftermath of Kyle Richards' party, where things got ugly between Brandi and the hostess. Yolanda shows concern for Brandi's health, saying that she wants to help her if she is an alcoholic — this isn't the first time people have accused Brandi of having a drinking problem — which Brandi quickly denies. "You're saying, 'Am I an alcoholic,' you've heard that about your daughter," Brandi says to Yolanda, who is utterly shocked. And why wouldn't she be? That was way beyond harsh.
But for Yolanda and Brandi, their friendship seems too important to the show — and to each other — to abandon over one argument like this. Let's take a walk down memory lane to see if these ladies can move past this moment.
Season 3
Season 3 was Yolanda's first season, and it was also the season where Brandi "broke up" Adrienne Maloof's family, so Brandi was too busy "breaking up" families to really have any issues with Yolanda. In fact, the two became pioneers for each other (maybe Yolanda pioneering Brandi more so than the other way around). When Faye Resnick, who likes to show up and stir the pot once in a while, accused Brandi of being the reason for Adrienne's personal problems, Yolanda had Brandi's back. Seriously, Yolanda threw some serious shade at Faye at the reunion, proving that these two were unbreakable going into Season 4.
Season 4
The "Dream Team" was introduced in Season 4, which consisted of Lisa, Yolanda, and Brandi (and Carlton, but no). Brandi and Yolanda were strong this season. When things started going south with Lisa ("Are you my friend or my Hollywood friend?"), Brandi and Yolanda stood together. If anything, they teamed up against Lisa, leaving the "Dream Team" to become just Brandi and Yolanda.
At the reunion, Yolanda once again proves to be a great referee at the Season 4 reunion, encouraging everyone, especially Brandi, to air their grievances without outside people (Carlton and Joyce) butting in. It seems like Yolanda's chill attitude towards confrontation and Brandi's not-chill attitude towards confrontation are like yin and yang to each other.
Season 5
Which brings us to the current season. Season 5 started out on an amazing foot for Yolanda and Brandi. The two got along, hung out together (just the two of them... Dream Team, after all), and seemed to support each other in whatever it was they were battling in their lives. If you ask me, I think Yolanda kind of treats Brandi like a project, in the sense that she wants to "fix" her, but Brandi is an adult woman and she can make those decisions on her own. We'll have to wait and see how that works out for them by the end of this season.
Present Day
In an interview with Andy Cohen in Dec. 2014, Yolanda explained her relationship with Brandi as the following: "It's like your dog. On the days that the dog doesn't behave right, you don't kick him to the curb. You keep trying. So that's my relationship with Brandi." OK, so I wasn't far off from Brandi being a project; she's just a "pet" project. Brandi responded with a tweet.
From the looks of the tweet (that was in Jan. 2015), the women are still supporting each other and pioneering for the world to understand them.
Images: Nicole Weingart/Bravo; Giphy (3)