Groom Plans A Perfect Pinterest Wedding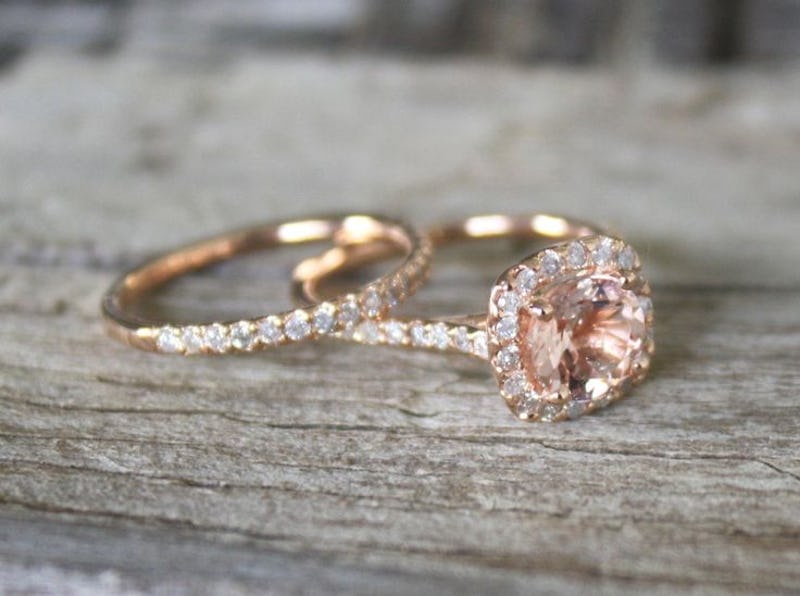 Pinterest has long been a favorite resource for brides-to-be when planning their ideal weddings, and singletons when daydreaming about theirs. Some pinners are so detailed, you can practically envision exactly how the event will come together on the big day. And for one couple, Pinterest was a way for a groom to bring his bride's dream wedding to life — without her even knowing he was doing so.
When Ryan Leak heard his girlfriend Amanda Roman tell a friend that her dream would be to get engaged and married on the same day, he wondered if such a thing was even possible (it does sound pretty far fetched). Enter Amanda's "My Dream Wedding" board on Pinterest.
Apparently Amanda is one of those people who has so many wedding pins she's practically planned her own wedding already. Ryan was able to take everything she had on Pinterest and turn it into a real wedding in Miami. Amanda had already planned everything, from the dress to the centerpieces, right down to the seating arrangements. All Ryan had to do was make it happen.So five years to the day after Ryan asked Amanda on their first date, the two got married and engaged all in the same day. Now, as much as the obsessive wedding planners on Pinterest drive me — drive all of us — a little crazy, it's hard to watch the proposal and not go "Awwwww!" The whole thing could have gone absolutely horribly wrong. What if that off hand comment hadn't been the real story? But the bride is clearly thrilled with all of it. So props to Ryan for knowing his girlfriend so well and being gutsy enough to take this risk. After all, proposals are stressful enough when you don't also have a hotel full of people waiting for you to proceed immediately to Step 2.
Now, even though Pinterest might not be the best thing to ever happen to feminism, I'm not one of those feminists that tells women they aren't allowed to be interested in weddings or making their own picture frames. So while I hate to give the Pinterest wedding planners too much encouragement, it turns out that it can pay off to go all out with your dream wedding plans.You can watch Ryan's proposal on YouTube or below, as well as a half hour mini-documentary the couple made about the day in which they are both absolutely adorable.
Images: Studio1040/Etsy, Amandaromanleak via YouTube