Fans Crush SUR In Yelp Reviews — Sorry, Lisa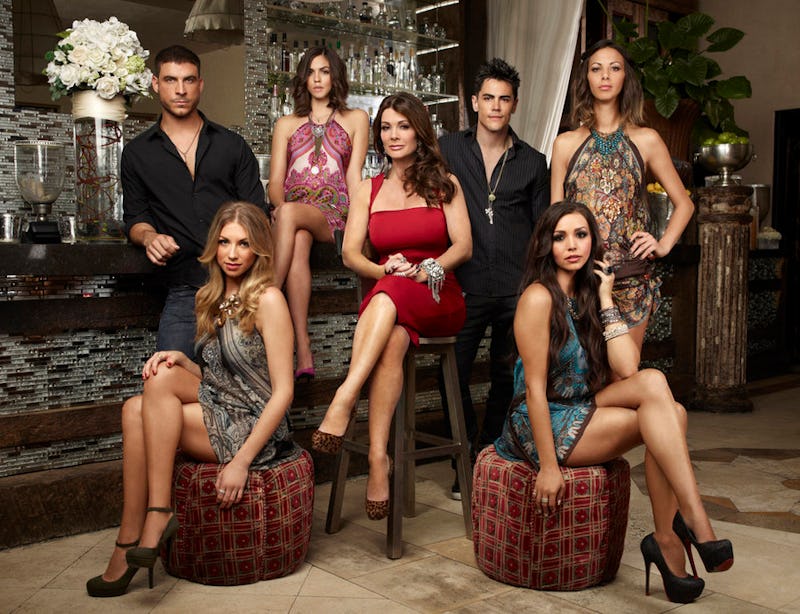 After watching the SUR-vers squabble, hang out, and make their living at SUR, Lisa Vanderpump's fine dining lounge in the heart of her home, Beverly Hills, it's hard not to wonder... what is SUR really like? Is it a Sexy, Unique, Restaurant, or a total disaster buoyed only by the Bravo name? The people who have the answers can be found in one place: the SUR Yelp reviews. There are a good number of reviews from all types: foodies who are looking for a new spot in Beverly Hills, rich kids who were looking for a lounge for late night partying, and, of course, a great deal of Bravo fans who want to party with the stars of Vanderpump Rules.
A few things showed up frequently in a lot of different reviews. Obviously mentions of Bravo, Lisa, and RHOBH were in about half of them, since the show's fans were so curious to see where it all goes down. And the place's popularity led to a lot of comments about rushed kitchens, long waits, and the crowded bar. And for all their talk about being amazing waiters... let's just say the service isn't unanimously praised. Here are some excerpts from a variety of reviews, focused, of course, on what the customers had to say about Scheana, James, Kristen, Jax, and all the rest of the SUR staff — even Lisa Vanderpump gets some mentions.
The Good
No matter what the haters have to say, there were plenty of people who loved the place.
Tami L.: Kristen D. was there with James and chatted with us for a bit and bought us a round of drinks and James, the DJ that night, took shots with us before we left. I watch Vanderpump Rules so meeting some of the cast was fun :) I've worked in the service industry for 14+ years so I know great service when I see it and I've never been more impressed with any dining experience than I was at SUR.
That's some high praise, especially from a former server! Also, that gives away that Kristen got her job back and is still with James (the review is from earlier in Feb. 2015).
Lil K.: I'm not going to lie, I wasn't expecting much but to see a few cast members and enjoy a drink. Wow, was I proven wrong! Peter and Jax were both bartending that Saturday and they were amazing! Polite, professional, and fast!
The bar gets some pretty good reviews, and even Jax got a shoutout.
Kevin D.: The food was very good and the portions were very reasonable. Scheana was our waitress and she was very nice and attentive. She didn't seem to mind when my fiancé asked to take a photo with her - she even favorited on twitter.
Turns out Scheana, even though she doesn't appear in a lot of reviews, is a good sport about fans.
The Bad
Every day can't be your best day. And Yelp reviewers are quick to point out when the SUR crew could have been more on their game, or when they totally abandoned the place.
Jack F.: It was not very busy that night and I only saw Peter and Guillermo from the show's cast. After dinner Peter was nice enough to take his photo with me.
I've always thought those two were good eggs! Boo on everyone else for skipping out.
Stephen P.: My waiter was worse than IHOP, looked and passed my table by like 5 times with an empty glass of wine and never stopped until I asked him to get me another glass. He was to busy checking his phone.[sic]
No reality star name drop there, but whomever it was, hide your phone, dude. You're at work!
Ian K.: Came to see the cast of Vanderpump Rules, but nobody was working on a Friday night.
Ah, sounds like the reality stars took the weekend off.
The Ugly
Some of these get... pretty negative. Beware, because as with all types of Yelp reviews, there's no way to tell if these people are rounding down or even wholesale making things up.
Bruno Y.: We were just a few sips into our first glass of wine when, lo and behold, one of SoCal's largest cockroaches decided to make a trek along the back wall where our female guests were sitting...
This is my nightmare.
Michele R.: One night, prior to walking in and I saw the husband/wife couple getting out of their car and walking in as well. It was raining that night, and so first the wife walked in and then I did. My umbrella for some reason was not closing and it blocked the husband from getting in. I told him that I was soooo sorry and he said "you"ll be sorry in a minute".
Gasp! And I thought Ken was a gentleman!
Salumeh F.: The steak was so chewy I almost got TMJ. The sides were so bland. The God was so bad I had to keep asking for bread. The service was TERRRRRREIBLE. So much attitude!!! [sic]
So bad she misspelled terrreible! Wrap it up and go home for the night, SUR. Even "God" hates it.
Image: Tommy Garcia/Bravo; Giphy (3)