'Vander'-Predictions For The Explosive Reunion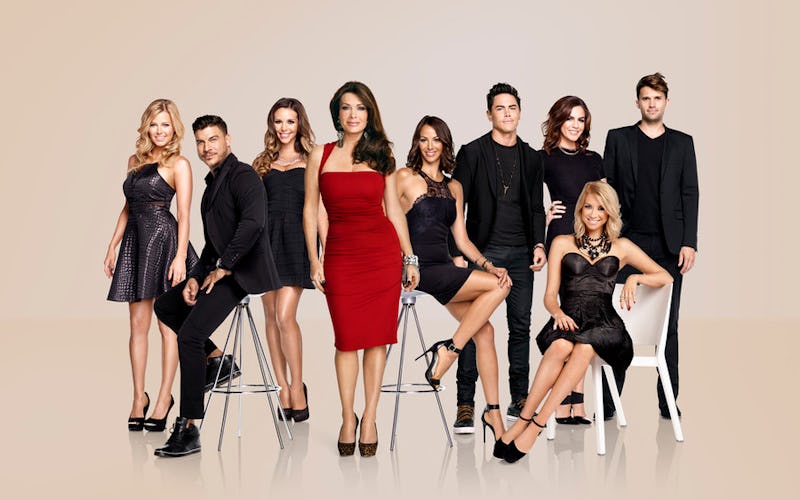 It's been an eventful season of insta-fights, adulterous rumors, and general melee in Sexy Unique Restaurant land. How time flies!!! Now, Scheana's wedding is right around the corner, meaning that we're nearing the end of Vanderpump Rules Season 3. This begs the question: What will happen on the Vanderpump Rules Season 3 reunion? Like a Villa Blanca employee attempting to plug my phone charger into a faulty outlet, should I prepare for an imminent Vander-shock?
Needless to say, we have a litany of histrionics to address at the reunion. I mean, so much happened this season. Jax got a new nose! Tom was the subject of an Instagram-hatched cheating scandal! We were introduced to James the Busser, and James the Busser introduced us to the concept of a Beamer Selfie! Katie and Stassi's friendship came to a tearful end! Scheana mixed yet another dance track with her signature orgasmic vocals! Oh, and KRISTEN FINALLY GOT FIRED!!! HALLELOO!! Andy has a lot to talk about with the vander-crew. I sincerely hope that Lisa's 18 dogs will be there to diffuse the drama with their cuteness. Nah, who am I kidding? I WANT A BLOODBATH.
Let's try to figure out what'll be going down at the reunion, to the best of our abilities: When will it be? Who will be present? Will forty percent of the cast be seated in restraining chairs to prevent physical fights? WILL THEY BRING BACK MIAMI GIRL?
When Will The Reunion Happen?
While I can't find the specific reunion date on my local listings as of yet, I can confirm that the Reunion was just filmed. On February 6, Andy Cohen posted the above picture to Instagram, which means that they're probably in the process of editing the show at the moment. Also, Monday's episode is the 15th in Season 3, which may just be the season finale. After this week, it looks like there are two episodes left that are set to air on February 16th and 23rd, and those may just be the reunion shows. At the moment, the forthcoming episodes are listed as "TBA," so I can't confirm that that as a fact. However, my detective's hunch tells me that these shall be reunion shows.
Will It Be a One-Part of Two-Part Reunion?
My gut reaction is that this season will have a two-part reunion. After all, they've got a lot of ground to cover. The two-part reunions have also become standard for most Bravo shows. I can't imagine that this carnival of intrigue would be an exception.
Who Will Be There?
Thank God for Jax Taylor, who happily snapped copious pictures as the reunion was being filmed, because we actually have some answers here. From the above picture, we can see that Kristen, James, Katie, Andy Cohen, Lisa Vanderpump, and the apparent backs of Ariana and Scheana made it to the reunion.
It looks like he and Tom Sandoval were there as well, which is a no-brainer. And even though he was surrounded by his buddies, he didn't seem to be having a great time...
Hey, look at that! Tom Schwartz showed up as well...
I mean, someone had to comfort Jax from whatever horrors awaited him at the reunion.
Stassi may not have been there.
It looks like she was doing a photo shoot on that particular day.
However, there's still one chair that remains unaccounted for in the above scene. I'm specifically referring to the chair two seats to the right of Lisa...
If I consult my detective's hunch again, I would say that the chair was meant for Stassi. She is, after all, a part of the original cast.
However, it's always possible that they hauled in Miami Girl for one last explosive confrontation.
Then again, that last chair could always be for Mike Shay. Guess we'll have to tune in for the insanity, whenever that rolls around.
Image: Tommy Garcia/Bravo; Giphy (3)