For the Anns and Leslies In Your Life on Feb. 13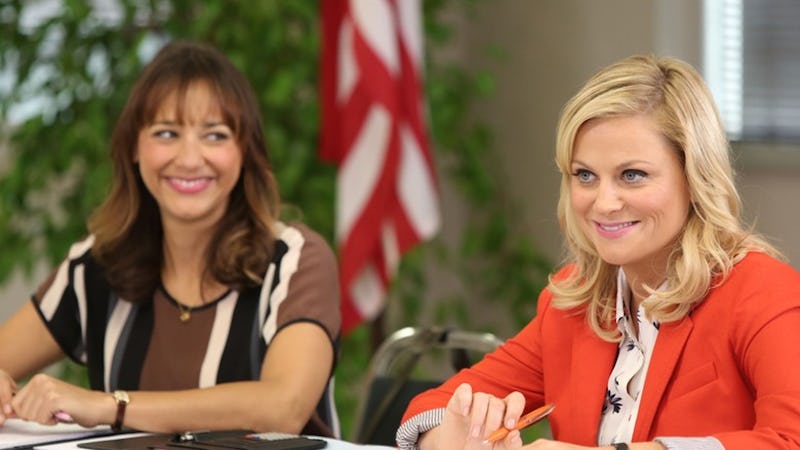 Oh Bustle readers, you beautiful, tropical fish, you. We're just a few short days away from the best holiday of the year: Galentine's Day! Thanks to Parks and Recreation, February 13 has gone from the dreaded eve of the even more dreaded Valentine's Day, to a time to celebrate the lovely, smart, beautiful, and talented women in your life.
Now, Leslie Knope—the ultimate supporter of strong, fierce women and the founder of Galentine's Day—sets the bar pretty high when it comes to making thoughtful, homemade presents (especially for her BFF Ann Perkins). So if you're planning on celebrating Galentine's Day this year with your ladies (and you definitely should), not only should you make thoughtful, personal presents, but you should take a cue from none other than Leslie.
Of course, the clock is quickly ticking towards Galentine's Day 2015, but that doesn't mean you can't come up with something seriously great and Parks and Rec-inspired gifts for the Leslie or Ann or Donna or April in your life. Extra word of advice before starting on your Leslie Knope craft session on: watch the episode that started it all, Season 2's "Galentine's Day" for inspiration.
Here are nine homemade, Leslie Knope-worthy Galentine's Day gifts this year.
Make Waffles (with Extra Whipped Cream, Of Course) For Your Brunch
Everybody loves waffles and friendship, so why not combine the two for a delicious, memorable brunch with the two greatest things in the world? In fact, here's an easy, but mouth-watering recipe to follow!
Go to Build-a-Bear and Make a Stuffed Creature They Once Dreamed Of
If they've also dreamed of Yachter Otter, just take a cue from Ben.
Make a Parks and Rec-Themed Mix Tape
Kick things off with the Parks and Recreation theme (natch), then throw in all the show's greatest hits, including "5,000 Candles in the Wind," some smooth Duke Silver numbers, and of course, Leslie's rendition of "We Didn't Start the Fire."
Jazz Up Your Old My Little Pony and Turn It Into Li'l Sebastian
Make it a little outfit advertising the Snakehole Lounge and it's like Li'l Sebastian never left us. (RIP.)
Paint Her a Picture of Whatever Reminds You of Her the Most
Whether you see her as a beautiful, rule-breaking moth, or a poetic and noble land-mermaid, or a cunning, pliable, chesnut-haired sunfish, she'll be touched when you paint her a picture that captures her very essence. (Or maybe a little concerned. Probably both.)
Make Her a Very Special Wedding Dress That Captures All the Major Milestones In Her Life
Alright, this one would take some serious sewing skills, but in the words of Leslie Knope as Tim Gunn, you could "make it work, designers."
Make Her a Friendship Unity Quilt
Again, you'd have to be great at sewing, but if you've got a knack for it, you could make a unity quilt that represents the personalities or you, your BFF, and all your gals. Just don't forget to add a Joe Biden patch!
Create a Galentine's Day Gingerbread House
Who said that gingerbread houses had to be specific to Christmas? If your BFF is anything likes Leslie and loves sugar year-round, she'll love a gingerbread house that she'd love to live in and/or eat.
Turn Her Into a Balloon Person!
This may not last as long as some of the other gifts on this list, but if you're a skilled balloonsmith, this will be really impressive if you make a spot-on balloon version of your pal.
Images: NBC Universal; nbcparksandrec.tumblr.com; buzzfeed.com; fandoms-trump-real-life.tumblr.com; eonline.com; chrisbradleysblog.files.wordpress.com; headoverheels.com; shakesville.com; esquire.com