Jade Roper Sang Chris Soules The Sweetest Song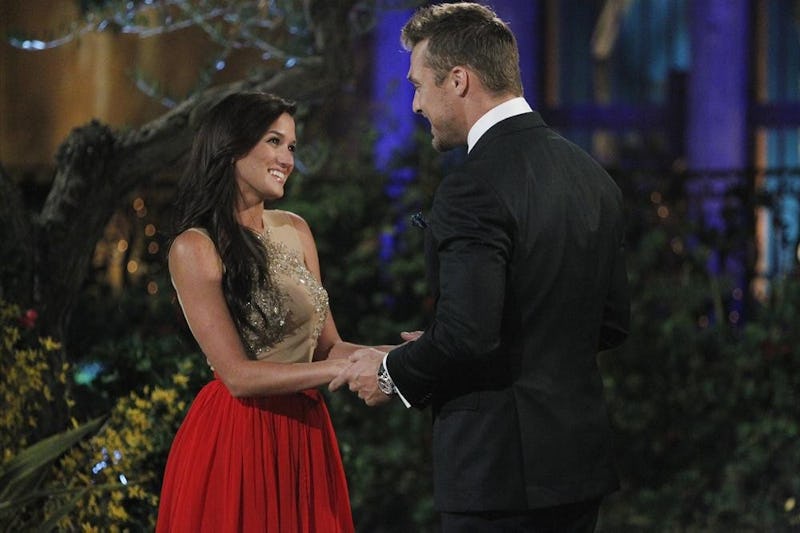 One thing you can expect on The Bachelor is to be pushed out of your comfort zone. Jade Roper realized this the hard way when The Bachelor group date was to write and sing a love song for Chris Soules. It was obvious that she was out of her depth, but Jade Roper's sweet song was actually totally adorable. She might have been nervous but she tried anyway, and it was really brave.
At the start of the exercise, Jade worriedly told one of the country music mentors that she was "riding the struggle bus" because she was scared to put her feelings into a song. He then ran through the streets with her to help loosen her up so she could sing her song. And sing it she did.
Jade was the last contestant to perform and walked timidly to the stage, but once up there she was totally adorable as she sang her feelings for Chris. "I'm a queen looking for my king of hearts," she sang to him, in a sweet reference to their royal Cinderella date.
Although she was nervous before she sang, you could tell she was pleased that she did it and proud that she followed through. Chris, for his part, was blown away by her, claiming that she totally "killed it." And Bachelor fans thought she was totally adorable:
Between Ashley I. being a total mean girl, Kelsey laughing about her own panic attacks, and both women preparing for a two-on-one date throwdown, the show has gotten a little dark lately, so Jade's song was a nice moment of lightness. She's one of the sweeter women on the show and it was nice to remember for a moment that this show is occasionally about loving moments, rather than just drama and fighting all the time.
Images: Rick Rowell/ABC