We Need To See More Of The Triplets On 'Parks'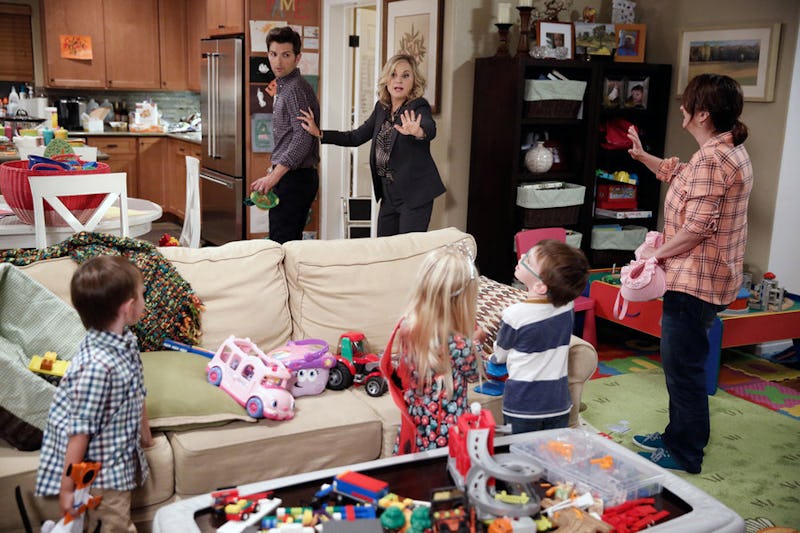 Leslie Knope and Ben Wyatt having babies is probably one of the best things to ever happen on TV. Considering how Leslie rocks everything else in her life, of course she's going to tackle motherhood like a pro — with help from dreamy Ben, of course. And it's not just one baby they're dealing with, but three. Triplets. Because, Leslie's motto is go big or go home, basically. Surprisingly, though, the triplets haven't been on Parks and Recreation much this season, and my big question is WHY? Bring out those babies, Knope-Wyatt Family. Fans have big things planned for them, and there's a lot we need to see of the triplets before Parks and Rec wraps up for good. One of the reasons I'm glad the show jumped into the future is that the storylines didn't become bogged down with baby drama. Bringing in three-year-old triplets is a recipe for comedy, yet the babies have been barely featured. Um, do we even know any of their names besides Sonia? The only reason we know that the girl is named Sonia is because when Leslie showed Ron her scrapbook, there was a photo labeled, SONIA'S FIRST PIECE OF PIZZA.
Come on, Parks, what gives? Why are you withholding this information? We're already halfway through the final season, and there's still a lot of triplet ground to cover.
Triplet Cosplay
Ben is a huge geek. He will talk your ear off about Fringe if you let him. Considering he was once allowed to dress up as Batman, why is he not dressing his kids up in costumes, too? Themed costumes, of course, tailored to Game of Thrones, Lord of the Rings, or Star Trek. Maybe Leslie could get in there and dress the triplets up as Harry, Ron, and Hermoine.
Triplet Farm Time
Sadly, the triplets will never know the sheer love and wonder of Li'l Sebastian, RIP. That doesn't mean they have to be deprived of all farm animals, though. Isn't Sebastian's girlfriend, Coconut, still around somewhere? It's about time these triplets learned the legacy of the best mini-horse to ever grace Pawnee.
Triplets & Political Figures
Leslie and Ben are constantly in the public eye, so it would make sense if the triplets have gone to lot of big fancy functions and met a lot of important people. I want to see these important people. Leslie herself has met Vice President Joe Biden and First Lady Michelle Obama, and it would make complete sense if she were to take her kids along to meet other important figures. Her desk was always stocked with pictures of famous politicians, and now it should be filled with famous politicians hanging out with her kids.
Triplets & Ann
So Ann's been completely MIA from Parks so far, huh? The triplets have had more screen time than her, and that's saying a lot. But somewhere in Michigan, Ann and Chris are living a happy life, and they've got a little boy, Oliver. You KNOW Leslie has already secretly planned out a marriage between Ann's son and one of her own children so that she can be related to her best friend. We need to see all these kids hang out.
Triplets & Ron
Somewhere off screen, Ron's got a little one at home, too. He's a little bit older than the triplets (roughly about a year) and while he's been discussed, it's about time everyone came over for a play date. Don't you want to see if John Middle Name Redacted Swanson plays well with others?
Family Time
Parks is leaving us forever in a few short episodes. It's a hard thing to deal with, trust me. So when we leave Pawnee for good, I just want to know that everyone we've left behind is going to be OK. It'd be awesome to see just some low-key family time with the Knope-Wyatts back at home. Just like the five of them, hanging out, eating dinner, watching Sofia the First and being a family. While we might not get to see the triplets grow up and take over the world, we at least want to be left with the thought that they do.
Images: Tyler Golden/NBC; Giphy (3); nbcparksandrec, hashtagparksandrec/tumblr