Celebs React To Jon Stewart's 'Daily Show' Exit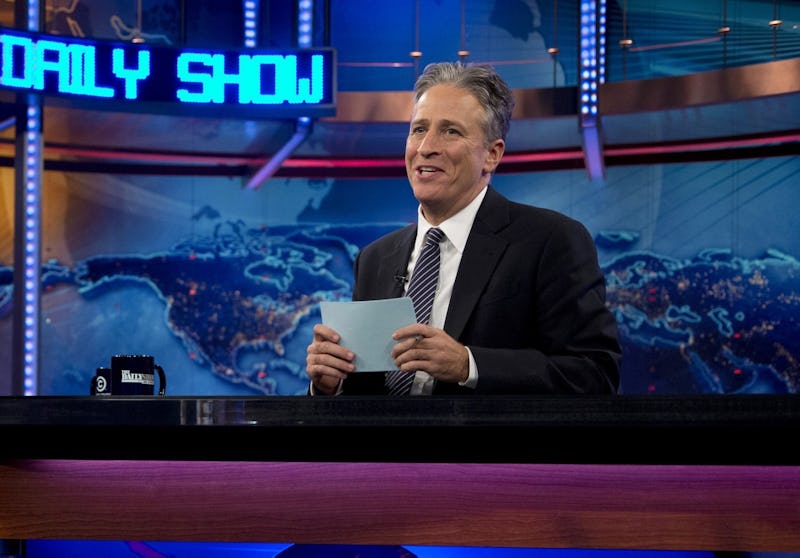 It's officially the end of an era: Jon Stewart and Comedy Central have confirmed that Stewart will be leaving The Daily Show in mid-2015, after serving as host on the series for a whopping 16 years. Considering Stewart's influence in many facets of the media, his leaving of The Daily Show is a huge blow to both comedy and news — and though it's not clear whom will be taking his place on the show (though, for the record, Bustle's very own Kristie Rohwedder has some suggestions of ladies who'd be perfect for the part!), there's no doubt that his absence from the series will be felt for ages to come.
This news seemingly came with no prior warning — not to mention, so soon after Stephen Colbert left The Colbert Report ! — so it's no surprise that everyone from fans to even celebrities who commonly rub elbows with Stewart himself are left shocked by Tuesday's announcement. Of course, it's an understandable decision on Stewart's part (he has, after all, been hosting the show since 1999 and has recently shown interest in pursuing other projects), but still...give a gal some warning, you know?!
As with any situation that's difficult and emotional to process, of course fans and celebs alike are taking to Twitter to voice their surprise about the decision:
Image: Comedy Central