Mindy Finally Tells Danny About the Baby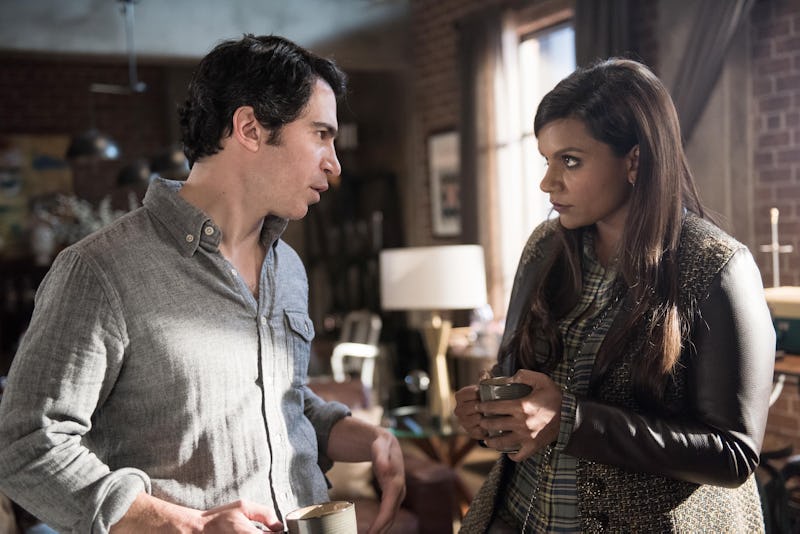 I was still scraping my jaw off the floor from the shocking twist that Mindy was pregnant on The Mindy Project just in time for Mindy to tell Danny the news on Tuesday's new episode. If you've been rooting for Danny and Mindy from the beginning of the series — and really, who wasn't? — a baby for the two might leave you feeling excited, shocked, kind of confused, but overall thrilled that these two are endgame and really happening. But before we get ahead of ourselves, picking names and all, Mindy had to actually tell Danny on The Mindy Project , but of course it didn't go very smoothly.
First off, Mindy really is pregnant. There was a fraction of my mind that thought maybe it was just a false positive, but after 30 some pregnancy tests, the bun is indeed in the oven. So the next step to this whole baby news would be to tell Danny. In true Mindy Project fashion, Mindy couldn't find a right time to tell Danny. Whether it was trying to tell him while he was complaining about kids, or Skyping him the news before he went to church, Mindy never got to say the words "I'm pregnant," to Danny.
The person that spilled the news to Danny was actually his mom, Annette Castellano. After Danny's father and little sister made a surprise visit to New York, Annette invited everyone over for a Guilt Dinner Party to end all Guilt Dinner Parties. It was there that Annette realized that Mindy was pregnant as Mindy was leaving the party after Danny insisted "family" stayed to work out their issues.
Annette being, well, Annette, told Danny that Mindy was pregnant. The news caused Danny to go find Mindy during a very dramatic — and perfect — montage of him searching New York City with Beyonce's "XO" playing softly in the background, eventually finding her at the hospital break room. It's then that Danny told Mindy (and her stomach) "We're a family," which was adorbs, of course.
So what does this mean for Mindy and Danny — a couple that was going to do a long distance relationship just days before Mindy found out about her pregnancy? Well, I assume Danny and Mindy will move to San Francisco if all goes well with the new practice. But what does that mean for everyone else? Is leaving New York going to be that simple for them? The city is a huge staple to the show, and Mindy's love of the city is no secret, so leaving it behind (including Morgan, Jeremy, and Tamra) would be pretty shocking. Then again, if San Fran calls...
Images: Erica Parise/FOX