'SI' Swimsuit Issue Models Talk Body Image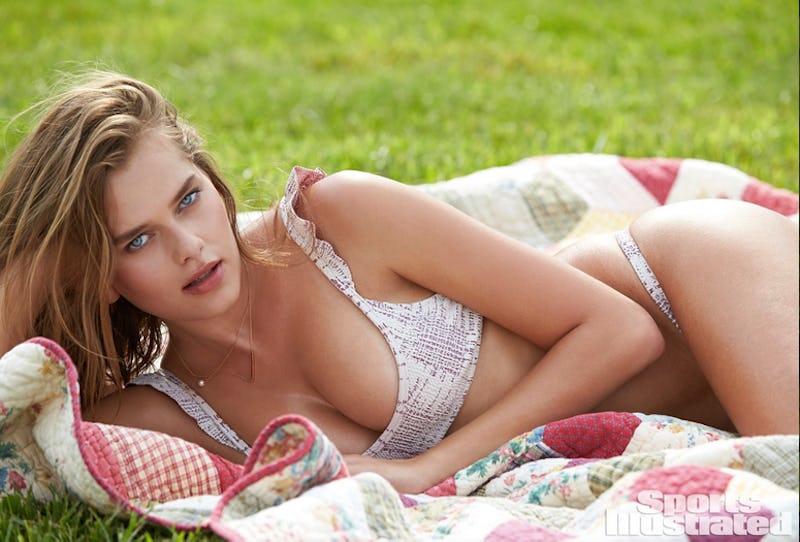 The 2015 Sports Illustrated Swimsuit Issue came out on February 9th to a lot of applause — from its usual demographic of [practically] every man ever, but also to a new fan base: Women of every shape and size. This year marks the first time the annual issue has included plus-size models in its spread. The milestone is huge not just for the magazine, but for the overall notion of how the fashion industry defines beauty.
The release featured plus-size models Robyn Lawley (posing in a suit of her own design) and Ashley Graham. (Both women are designers themselves — Lawley of swimwear; Graham of lingerie.) Though some critics argue that neither model is big enough for the their feature to really make a body-positive statement (Lawley wears a size 12, Graham is reported to be between a size 14 and a 16), they are plus-size by fashion industry standards, where sample sizes run no larger than a size 2. SI's inclusion of them is a progressive step in the right direction when it comes to showcasing the divide between how people on the inside and outside of the fashion industry define beauty.
At the issue's press event last night, I got the chance to talk to (and gawk at) the more traditional beauties of the swimsuit crew. For many of these size 2 models, athletes, and bona fide "guy's girls," the Sports Illustrated Swimsuit Issue is just another magazine spread and a close cousin to the Victoria's Secret Fashion Show. However, they are still able to recognize what the inclusion of curvier colleagues means for the industry. "Beautiful women don't have to be skinny women," says Russian model Irina Shayk, who has been appearing in the issue since 2007. "Beautiful means inside and out. Sexy is more than skinny."
Critics forget that despite their seemingly physical immaculateness, swimsuit models who bare their bodies put themselves on a stage to be judged every day. "Putting yourself out there is one of the hardest parts of the job," says Solveig Mork Hansen, one of this year's rookies. "You get a lot of comments, but you have to remember who you are and just be proud of yourself," she adds.
Self-affirmation — we dig it.
Images: Sports Illustrated; Getty