'The Last Five Years' Jeremy Jordan Talks Musicals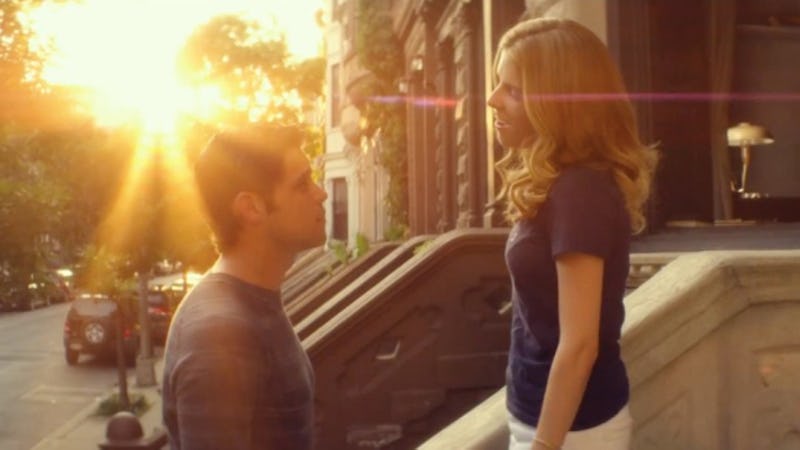 It's something you don't often see in movie musicals: intimate ensembles, stripped-down sets and a noticeable lack of elaborate dance numbers. But for Jason Robert Brown's The Last Five Years , it's what makes this musical one of a kind. Soon to be in theatres as a big screen adaptation, Richard LaGravenese' iteration is as true to the original musical as possible, and Broadway fans, often notorious for their critiques, are offering their applause. "We made the film for people like us," Jeremy Jordan — who plays Jamie opposite Anna Kendrick — says.
"A Les Mis is going to call for grandness, but there are a lot of pieces that can be written to explore the more intimate side of storytelling and in a musical way," he says. "We created this movie really for the fans of the musical. Generally people in theatre communities are very critical of theatre adaptations, and having a lot of feedback from the Broadway community, they are embracing it more than I've ever seen a movie embraced by the theatre community. We made it for them, and we didn't mess with it."
Jordan, unlike other actors who may have been up for the role, has a healthy background on Broadway. He's a singer by nature, and starring in movies and TV shows like Smash, comes second. "I've done a lot of stage and broadway stuff, so physically my body was in the right position to tackle this," he says. "Emotionally was where the challenge became real. Some of the filming aspects were also challenging. We were racing against the clock, it was guerrilla shooting, but it's a thrill."
The film shot for 21 days around New York, calling for long days in intense, unavoidable heat. One of the film's more memorable numbers, a song called "SCHMUEL," was particularly challenging. "We were in 95 degree weather wearing Christmas sweaters," he said. "We were in a brownstone and all they have on is window units, there's no central air. So you turn the air off, and you close the windows because you're in New York City and you can't have any sound, so we're sweating."
But that wasn't the only issue with filming "SCHMUEL." As Jordan says, it's the song on the musical's soundtrack that "you end up glossing over." He also admits: "It was a bitch to film — there were things falling all over the place and continuity was crazy... but we got it! When we finished filming we were like, 'We did that, it was weird, is it gonna work?'"
For The Last Five Years, their strength is found in the quieter moments, the close-quarters of singing inside a New York brownstone, with tears falling onto a piano, and voices cracking. "It tells the story in a poignant way with a lot of emotional depth. It's not something that you see a lot in musicals, you generally think musical and you think jazz hands, big numbers, flashy stuff. This is like the indie movie of musicals," Jordan says.
See The Last Five Years, in theatres and OnDemand February 13.
Images: Lucky Monkey Pictures; Getty