Jeremy Jordan on Chemistry With Anna Kendrick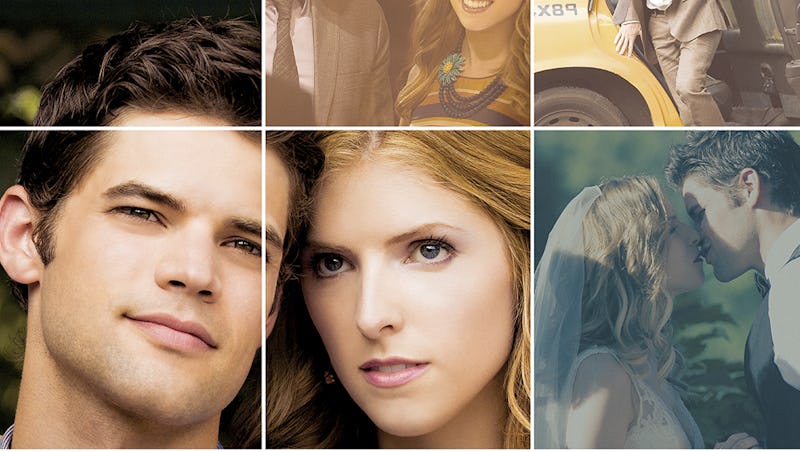 It's a beloved musical, and now, it's coming to the big screen. The Last Five Years stars Anna Kendrick and Jeremy Jordan in a role that requires literally almost zero dialogue. The pair play Cathy and Jamie, two young lovers whose relationship buds and unravels over the course of five years. "Anna was on board long before me," Jordan says. "I'm sure they met with a lot of A-list actors to play Jamie before me. It's a very difficult vocal part, so when they couldn't find anyone they felt could sing it, they turned to us lowly Broadway folk," he jokes. "I auditioned my butt off."
But Anna Kendrick, who can be seen crooning in Into the Woods and the upcoming Pitch Perfect 2, had the role tailored for her. Director Richard LaGravense said Kendrick was his "first and only choice" for the role of Cathy. "She's a movie star," Jordan says. "There was an intimidation factor, but we broke the ice really quick. We had some drinks, but when you're drunk and talking to somebody it's a lot different than when you're nervous and sober," he says of their initial interactions. But lucky for Jordan, and audiences who will get to see their insane chemistry unfold on screen, the nerves shook off after a few days on set.
"The material was juicy and rich," he says of building chemistry with his co-star. "You have to dive in. And luckily it wasn't like we had to say, 'Oh I love you so!' and 'Your hair is so pretty!' It was really real and authentic things we had to communicate to each other. It felt very natural."
The movie musical however, differs from most in the genre. There are no sweeping ballads or dance numbers, no elaborate set pieces or jazz hands. It's a quiet, intimate, and relatable drama. Anyone who's been in a relationship can see herself in Jamie and Cathy. And Jordan agrees. "He's in tune with his emotional. When we see him at the beginning, he's very youthful and has a lot of energy. He loves everybody, and I relate to that in a huge way," he explains.
"As the film progresses, he gets swayed into this other kind of world, with all these parties and people. For us, it's Hollywood, for him it's the literary world. That's where I disconnect from him a bit, but everyone understands being in a relationship — the tug and pull of outside energy," he says, referencing numbers where Jamie is tempted by other women and situations outside of his home life with Cathy. "It's about understanding the feeling of having a wandering eye and wanting to always be in a new romance."
So, do Cathy and Jamie make it in the end? For those die-hard Broadway fans, the answer is obvious. For others, you've been warned. Kendrick and Jordan said themselves: this isn't your typical Valentine's Day romance.
See The Last Five Years, in theatres and OnDemand February 13.
Images: Lucky Monkey Pictures; Getty