What 'Fifty Shades' Would Look Like On ABC Family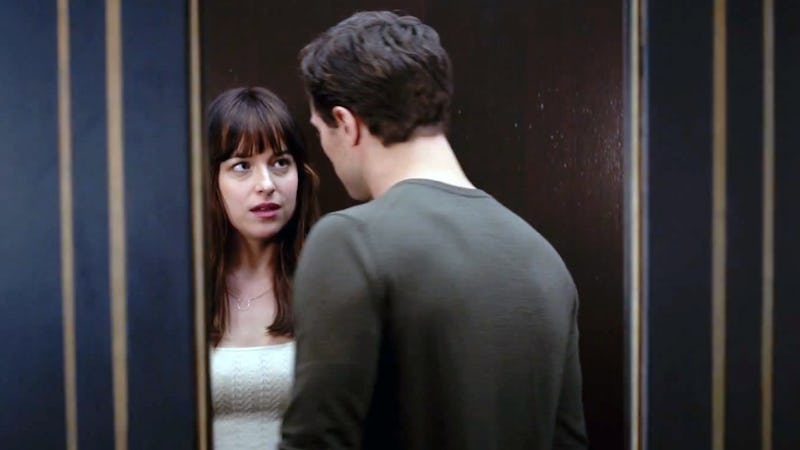 Can you believe the moment has almost arrived? It's finally here: the release of Fifty Shades of Grey is officially this weekend, meaning, finally, the day when we see Christian Grey (Jamie Dornan) and Anastasia Steele (Dakota Johnson) doin' the deed on screen is only a few short hours away.Fifty Shadesis a movie that's sure to be steamy (despite the fact that IRL it really seems like Jamie Dornan and Dakota Johnson wouldn't touch each other with a ten-foot pole but hey, technicality), and, according to previous reports, it actually includes twenty cumulative minutes of sex scenes, so you know it's going to be a rather... interesting experience seeing it in theaters.
(But, of course, we're all going to, because come on.)
But if the movie itself is so steamy, it sort of makes you wonder what Fifty Shadeswould be like if it were, say, television-appropriate? It's not a far cry to imagine that a young, pretty wide-eyed girl meeting a mysterious, kinda messed up in the head stranger would make for a pilot that would get snatched up immediately for a primetime slot. And, if we can't have a Fifty Shades movie starring Steve Buscemi, we might as well get it 21 to 43 minutes of it weekly as a show.
Of course, each network would change it up and move some things around to fit their vibe and to reach peak audiences; add a laugh-track here, a vampire there. These seven networks should definitely try to option E.L. James' bestseller to capitalize on the craze. But how would they do it?
LIFETIME
I'm surprised the plot of Fifty Shades of Grey hasn't been made loosely altered and turned into a Lifetime movie before, because it seems like it'd be the perfect fit — the poster already looks pretty convincing!
CW
We all know CW's bread and butter is vampire shows, and Fifty Shades of Grey DID start out as Twilight fan-fic after all. Why not bring it back to its roots? Honestly, there wouldn't even have to be that many plot changes. Just make Christian Grey a vampire. He's already got all the Robert Pattinson as Edward Cullen characteristics: brooding, closed off, emotionally unavailable, insatiable. He's just not sparkly.
FOX
What does FOX need if not another rom-com type show? We've got Mindy, we've got New Girl, ad now we've got Fifty Shades, where bubbly, naive and a little dorky! college journalist falls for a totally wacky, weird dude whose weird tastes she's gotta get used to. Will they make it? Will they be on-again, off-again? The new Ross and Rachel?
ABC FAMILY
Anastasia, with her beloved catchphrase "Holy Cow!" and her inner goddess, are basically a perfect fit for ABC Family's brand of wholesome, cutesy leading lady anyway — and Christian Grey's dashing good looks would fit in exceptionally well too.
BRAVO
Who doesn't want this to be a reality show, for real? NO ONE. We would all DVR that show religiously, don't lie.
NBC
Looks like Ana Steele is more savvy than she seems when Fifty Shades becomes an NBC melodrama. "The student becomes the teacher." Can you say POWER-PLAY? Many dramatic, close-up shots to ensue. Executive producer: Law & Order creator Dick Wolf.
DISNEY
Let's not and say we didn't.
Images: Universal; Kadeen Griffiths (7)