Kendall Posed With Marcel The Monkey For 'Allure'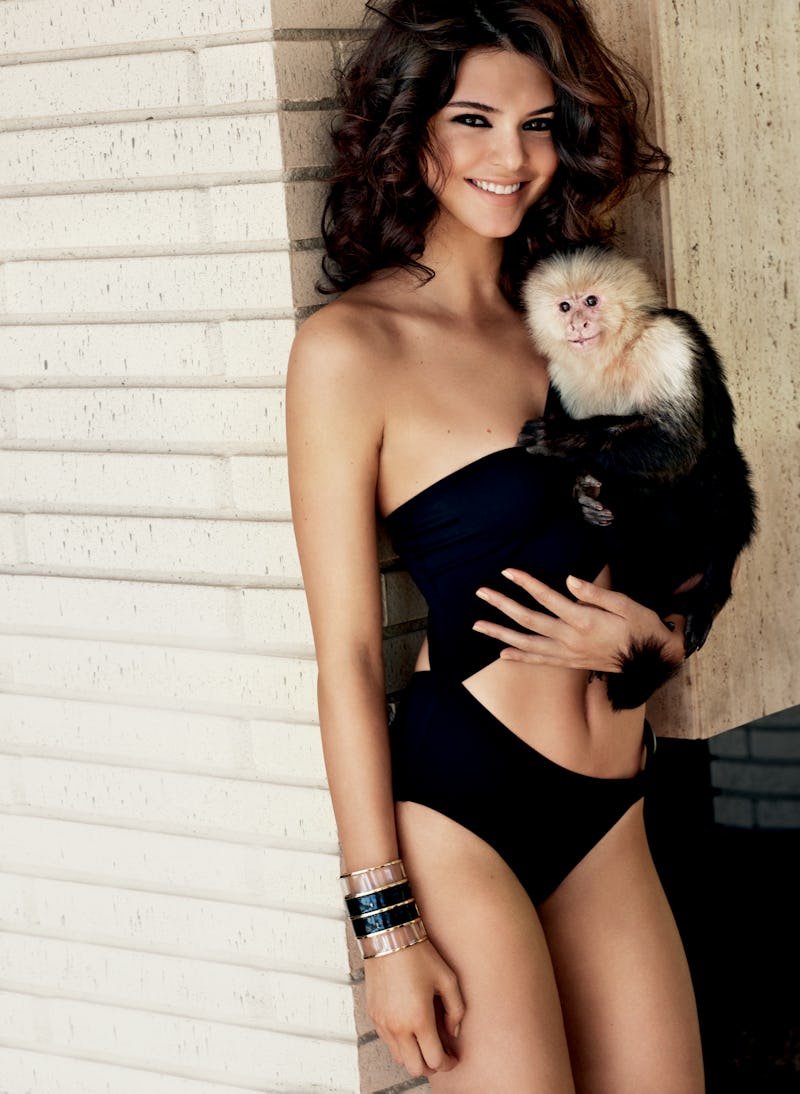 If Kendall Jenner's unrecognizable disco look on the cover of Allure wasn't enough of a shocker, there is yet another unexpected surprise from the highly buzzed-about shoot. Turns out the mega supermodel wasn't the only star to shine in the issue — Kendall Jenner posed with Marcel the Monkey in a cover shoot for Allure's March issue, making Friends obsessives everywhere jump for joy.
I'm talking the Marcel here — as in the actual monkey that starred in the first season of the show. How the hell did they manage to get ahold of Ross's original BFF monkey that stole our hearts circa 1994?! He must be pretty damn old by now (even older in monkey years right?). This might be the weirdest thing to ever happen to fashion, but I must admit I kind of love it. The whole thing just makes me appreciate Kendall even more. While Jenner has garnered a rep for being too serious and a bit of a bore at times, this collab between her and the furry star definitely shows the world, especially Friends fans, otherwise.
What a clever move from KJ. Tapping into the Friends nostalgia craze that is currently circulating will work wonders for her image and popularity. Here are three reasons why '90s kids will love her even more because of these amazing shots.
1. Proves She's A Secret Friends Fan
Yeah we're pretty damn excited about it too. Posing with the monkey may or may not have been her idea, but she still did it and looked pretty freaking happy about it, too. She's GOT to love the show right?
2. Shows She's Got A Sense Of Humor
Anyone who poses with the monkey poster child of the '90s can't possibly take themselves too seriously. Just look at her giggling in that last photo. Jenner is clearly having the time of her life with Marcel.
3. She Is Letting Marcel Share Her Spotlight
Proud of you for sharing the limelight Kendall. After all, Marcel did have a successful acting career on Friends (he starred in that beer commercial, remember?) so he definitely deserves to shine. Thanks for not dimming his light! You go Kendall (and new BFF Marcel)!
Images: Courtesy of Allure; Giphy (3)