10 Alcoholic Valentine's Day Gifts To Give To Everyone On Your List, Because Booze Always Trumps Love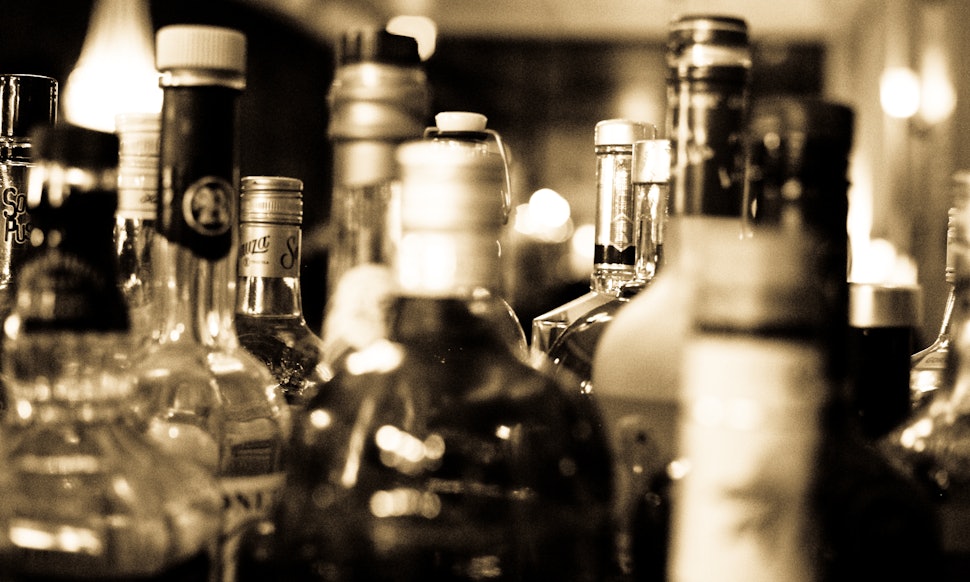 They say the way to a person's heart is through food. But if you really want to wow your loved one on February 14th, then perhaps a different Valentine's Day gift is in order. And no, this doesn't require investing in super sexy lingerie or mastering some Fifty Shades of Grey-style moves. It merely involves a trip to the nearest liquor store.
Right after chocolate, alcohol is the most all-inclusive Valentine's Day gift. It's a way for couples to toast their love for one another. It helps singletons to forget that they are all alone on the heart-filled holiday. It can even bring two people together for the night (and, technically, into the next morning). And while some may see liquor as a last-minute Valentine's Day gift, I personally think the right bottle of booze can show someone that you not only know them, but care about them too. Especially if it's something they wouldnt have thought to buy themselves.
Though not the most common selections, these beverages are the perfect purchase for anyone on your Valentine's Day list. Because not only do they taste great, they also display a touch of thoughtfulness. Whether you are buying for a boyfriend, girlfriend, or a BFF, these liquors are sure to make your special someone happy on February 14.
Image: Camille Strippoli/Flickr
For the Girl Who's Really One of the Guys
Four Roses Single Barrel Kentucky Straight Bourbon, $48, Caskers
She prefers black sweats to little black dresses and The League over Pretty Little Liars. But just because your girlfriend can kick it with you and your bros doesn't mean she shouldn't be treated like a lady. A sweet bourbon with an even sweeter story (the creator named it after a Southern belle who showed up to their first date wearing a corsage of four red roses), this beverage is sure to please.
For the Guy Who Happily Watches 'Downton Abbey' With You
The Balvenie PortWood, $227, ReserveBar
He may mock your TV shows, but there's nothing he loves more than curling up on the couch and watching them with you. Show him your appreciation with a silky, spicy libation that takes 21 years to make.
For the Girl Who Likes to Dance Till Dawn
Patrón XO Cafe, $30, ReserveBar
When the working day is done… well, you know the rest. If your girl likes to let loose after a long week, she may need an extra jolt to keep her going. A coffee-infused tequila gives her just the right amount of buzz.
For the Guy Who Keeps It Classy
Hennessy Privilège V.S.O.P., $65, ReserveBar
Forget jeans and a jersey. This guy likes to don a suit and tie whenever possible, and he looks damn good in it too. Celebrate his style with a drink that was originally created for royalty (no, we're not kidding).
For the Girl Who's Sweet and Sophisticated
Barr Hill Gin, $45, Caskers
Your lady may be over the bar scene, but that doesn't mean she can't enjoy a little libation. Perfect for a night in, this gin combines juniper and honey for a subtly sweet taste that any woman will love
For the Guy Who Idolizes Ron Swanson
Lagavulin Distillers Edition, $129, ReserveBar
Is your boyfriend tough as nails? Does he order all the bacon and eggs at breakfast? If so, then he deserves a drink that has the Swanson seal of approval. Smoky and rich, this special edition whisky is the perfect way to say I love you and your facial hair.
For the Girl Who Leads a Simple Life
Boyd and Blair Potato Vodka, $46, Caskers
She doesn't need $100 spirits to be happy. With semisweet notes of honey and black pepper, this vodka is a local creation that she's sure to love.
For the Guy Who Likes to Spice Things Up
Excellia Añejo Tequila, $78, Caskers
It's easy for guys to fall into a romantic routine, but your man knows spontaneity keeps the spark alive. Thank him for keeping your relationship spicy with a drink that has just as much of a kick as he does.
For the Girl Who Can't Make Up Her Mind
Justin Isosceles 2009, $66, ReserveBar
Women sometimes have a tough time making up their minds when it comes to little things, like what movie to see or what drink to order. Make her decision a little easier with a blended wine that's sure to please her indecisive plate.
For the Guy Who Loves a Good Brewski
Milk Stout Nitro, $10 for 6, Total Wine
Is he looking for something new to sip during the Sunday game? A dark brew with a brown sugar and vanilla cream aroma, this milk stout is the perfect candidate.