Are You Ready For 'Paper Towns'?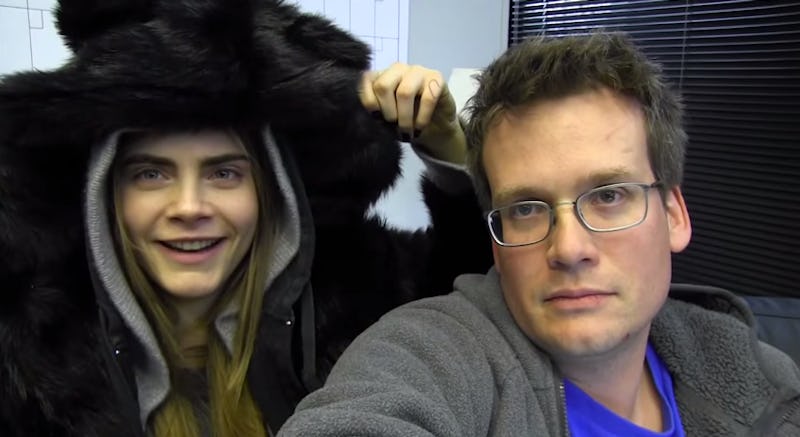 There's a storm a-comin', and it's another John Green movie hitting theaters this summer: Paper Towns is heading our way, and we all need to prepare ourselves for the onslaught. It will probably be a few weeks before we get the first real trailer for the film, but there are other ways they're already amping us up for this one. John Green debuted the official Paper Towns Instagram Thursday, with the account teasing that "the adventure of a lifetime begins now." Are you ready? It's about time to start getting ready.
Paper Towns, starring uber-model Cara Delevingne and Fault In Our Stars' Nat Wolff, hits theaters June 5, 2015 — a few weeks before its last recorded release date, but hey, it happens to land pretty damn close to the one-year anniversary of last year's teen hit The Fault In Our Stars. And there's a lot to look forward to when it comes to this movie: It's dark, it's funny, it works to dismantle some persistent tropes in female characters. I'm genuinely curious and excited to see what this film serves up.
Here are just a few of the things that have me psyched for that June 5 release date:
The Screenplay's Been Adapted By the Guys Who Also Adapted Fault and Spectacular Now
They're pros at modern cinematic teen self-discovery, basically. That's necessary here.
The Story's About Smashing the Manic Pixie Dream Girl Fantasy
Hell. Yes. I cannot wait.
It Might Make Cara Delevingne A Huge Movie Star
Divergent helped Shailene Woodley burst (back) onto the scene, but Fault In Our Stars really cemented her place as a critical darling and huge movie star. Delevingne's been what they call an "It" girl for a while now, but she hasn't had a major film role yet. Seems like this will be her first big chance to show us what we got — and Margo's a lot to chew on, so she'll be doing some heavy lifting right off the bat.
Plus, this video proves she can rock the American accent in an almost disconcerting way:
This Cast & Crew Clearly Loves Each Other
It'll at least make for a delightful press tour, if the Instagrams are any indication.
It's Being Released The Same Weekend That Fault In Our Stars Was Last Year
The Fault In Our Stars hit theaters June 6, 2014. I wouldn't get too sentimental about this — it could be a sweet move, but I suspect placing it right where they placed Fault In Our Stars has a lot to do with how well that teen drama performed in the same weekend last year. It's a good business move, and if Paper Towns performs well in the same spot then we can probably expect even more non-dystopian fare to hit theaters in June's to come.
Then again, John Green is a pretty sentimental guy.
Image: vlogbrothers/Youtube