Don't Bet On A Second Season Of 'Mulaney'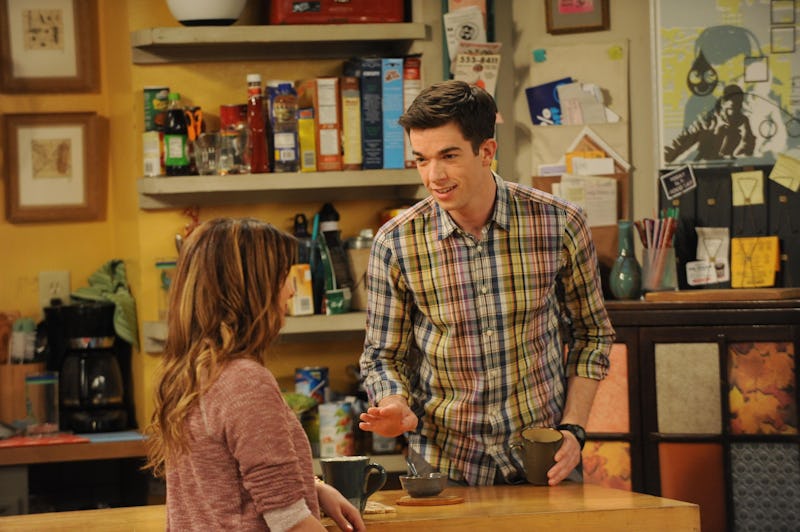 Sadly, it doesn't look like John Mulaney's Mulaney is going to have a happy television ending. For a show that was once passed over by NBC, it seemed like landing at FOX might have been its saving grace. But, it just wasn't in the cards. Hopes of a second season for Mulaney have all but been dashed again and again, and now the last episode of the season, set to air on Sunday, looks like it'll also serve as the series finale. Kind of a bummer, especially since Mulaney is the guy who created Saturday Night Live's Stefan. A show from him should have been a slam dunk.
In full disclosure, I love John Mulaney from bottom of my heart. I'm legitimately bummed that he's married, because I feel like I could have totally had a shot with him, you know? He's just that relatable and charming. So way back in 2013, I was devastated to hear that NBC had passed on his pilot, even when people were calling it the second coming of Seinfeld — something previously thought to be impossible.
Not even five months after NBC gave up on the pilot — they were looking for major re-works from it — FOX swooped in and saved the day. Mulaney got a six-episode order from the network, and some big name stars were quickly attached to the project, like Martin Short, Elliot Gould, and Nasim Pedrad, who left SNL for the sitcom. Way back in 2013, it honestly seemed like it could be the next Seinfeld, since the similarities were there. Mulaney's a stand-up comedian, Seinfeld is a stand-up comedian, that's enough to get a show off the ground, right?
FOX thought so. After the initial six episodes, 10 more episodes were ordered. It was a great day for everyone.
Then, it wasn't so great. The first two episodes of Mulaney aired to little fanfare, even from diehard Mulaney fans (like myself). Quickly, FOX cut its 16-episode order down to 13, without the hopes of ever actually filming those last three. Oh, let's also not forget that FOX moved Mulaney from its 9:30 p.m. timeslot to.... 7:30 p.m. Which I didn't even realize was a time you could actually use to air a show during primetime. I thought Jeopardy and Access Hollywood had any slot before 8 p.m. locked down.
In short, all of this adds up to the fact that we shouldn't hold our breath for a second season of Mulaney. TVLine hasn't outright marked it as "canceled" on their Renewal Scorecard, but it is listed as a "long shot." It would need a pretty big miracle to bring it back, which is a shame. Given the right nurturing, Mulaney could have really turned into something. But nowadays, you either start huge and continue huge, or you slowly disappear from our television sets.
I still really love you, Mulaney. So do you have, like, any single friends?Image: Ray Mickshaw/FOX