Taylor Swift's New Video Boy Is Dating Her Friend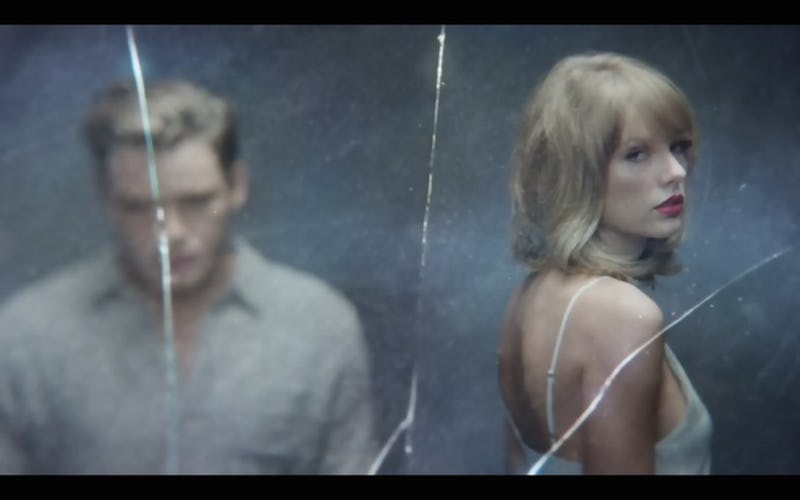 When I watch a new Taylor Swift music video, I always have three thoughts in the back of my mind. The first is to figure out who the song is about. Then, I look to see how she uses visuals to throw shade. (Taylor Swift is a true ingenue when it comes to throwing shade, after all.) And finally, I ask myself about the hot guy in the video. Because there is always a hot guy in a Taylor Swift music video. Who is the hot guy in Taylor Swift's "Style" music video? It's Dominic Sherwood.
Know him from somewhere, but can't quite place it? He starred in the movie Vampire Academy last year. If you didn't see that movie, I bet his name sounds familiar. Everyone was buzzing about him last week when Sherwood was spotted making out with his new girlfriend Sarah Hyland. Ahh, now you remember.
Starring in this music video is a big deal for Sherwood. Why? Everyone and their grandmothers were looking forward to the "Style" music video premiere — except Harry Styles, I assume. People freaked out trying to decipher the gif preview of "Style" when it hit the Internet earlier this week, so it's fair to say anticipation was high. There is no doubt that fans are watching and re-watching it. This is major exposure for Sherwood.
What's even better than mass attention? Acting as a love interest with your celebrity crush. Yes, Sherwood has preciously confessed that he had a major crush on Swift: "How could you not?! I've met Taylor once, with Sarah Hyland, and there's just nothing not to like about her. " This all sounds like a dream come true. Check out Sherwood in his music video glory.
Images: Youtube