Ashley From 'The Bachelor' Loves Graphic Tees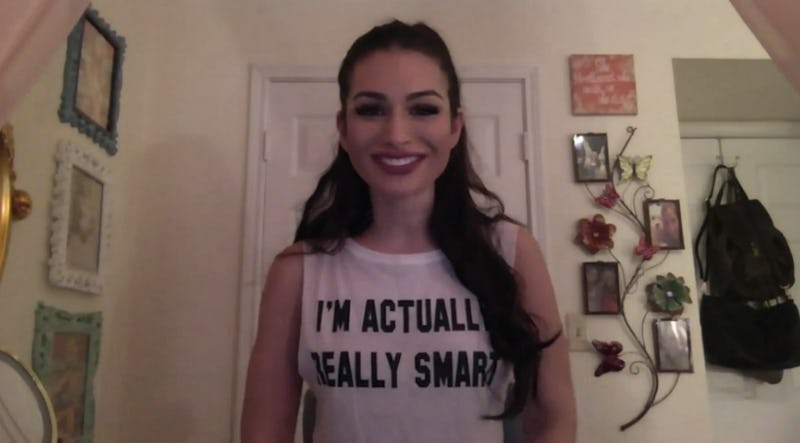 So, let's talk about Ashley Iaconetti for a minute… as if we ever stopped talking about her! Since her appropriately dramatic exit from The Bachelor last week, I can't stop thinking: What am I going to do without all of her ridiculous crying scenes and princess dresses? Even more so, I'm wondering what I'm going to do without her incredible graphic tees.
Thanks to her appearance on Jimmy Kimmel Live!, The Bachelor wasn't the last we saw of Ashley I. on TV. And luckily for her, there was no crying. She redeemed herself by appearing calm, cool, and collected, and it made me realize that she's much more down to Earth than the show depicted.
Because I just can't seem to get enough of Ashley, I may or may not have stalked her on social media. A bit. Just a bit. And that made me realize — the girl's got the graphic tee game on lock. She may be better known for her fancy outfits on the looking-for-love reality television show, but seriously — Ashley should only wear t-shirts from now on, because she knows how to pick 'em.
Here are just a few moments when Ashley Iaconetti proved the casual slogan tee could be just as stylish as any number of high fashion outfits.
1. "I'm Actually Really Smart"
First off, I have to mention the cropped muscle tee she wore during her Skype session with Jimmy Kimmel. This shirt said, "I'm actually really smart," not like she's got anything to prove. Still, the tee sent a very clear message. After some investigating online, I found that this exact shirt is available at Forever21. TBH, I'm not surprised that's where she got it — that place has some amazing graphic tees for sale right now.
2. "Wine, Bachelor & Yoga Pants"
Three of my favorite things! This one is from a company called Organic Wine Lounge, where part of the proceeds go to animal rescues and shelters. You can actually visit Ashleigh's blog for a coupon code for Bachelor fans! In that case, I'll take at least two.
3. "Boy Bands Ruined My Life"
She wore this shirt while still living at the mansion on the show. This shirt comes from Jawbreaking, an online store (where I want one of everything, please and thank you).
My new life motto: What would Ashleigh I. do? Now there's a t-shirt I'd buy.
Images: ABC Screengrab