7 Asian Women Who Are Slaying NYFW Street Style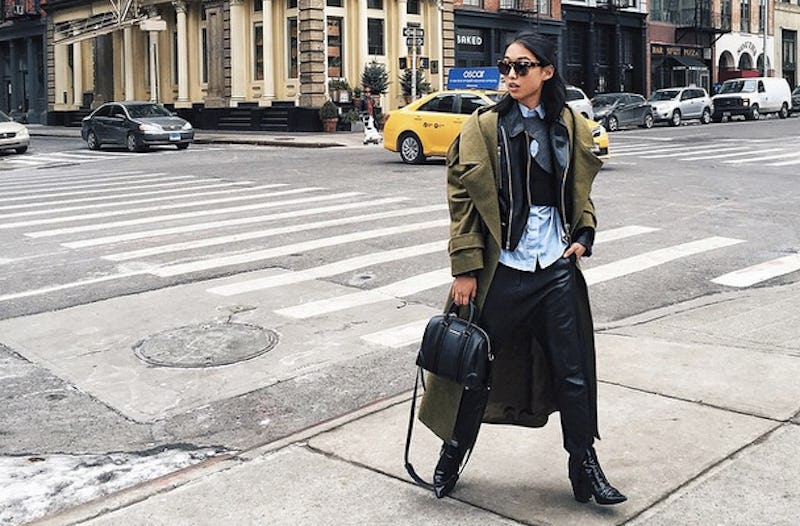 As a half-Korean girl growing up in the suburbs of New York City, I used to struggle to find female role models in the media, let alone stylish ones in magazines. But that all changed with the advent of the Internet (along with a lot of other things, but let's focus on this one for now). It was revelatory to discover blogs written by women from a variety of perspectives, specifically women who looked like me. It was equally amazing to find out that I wasn't the only person who respected these women's points of view and fashion sense, since many of these incredibly chic women seated front row at one of the industry's biggest events: New York Fashion Week. And although the designers' shows and presentations are the bread and butter of Fashion Week, the place to see the guests' personalities is through street style. (Let's be real: The sidewalks outside Lincoln Center are often more interesting than the catwalks themselves.)
These women are also incredibly smart and well-spoken and hard-working, running magazines and blogs and online stores and the world. To be honest, I don't know if I'm more envious of their wardrobes or their brains. So here are seven Asian women who are both slaying the mean streets of Fashion Week, as well as the fashion and business worlds every single day.
1. Margaret Zhang
Margaret Zhang is an Australian writer, photographer, and stylist, who runs the blog Shine By Three. She's also super smart, finishing up her bachelors of law at The University of Sydney as she documents her chic global travels. This NYFW, Zhang's outfits have been seemingly military-inspired, with drab olive greens, a melange of grays, and a pop of camel tan.
2. Nicole Warne
Another Aussie, Nicole Warne blogs at Gary Pepper, a self-described beauty, lifestyle, and travel blog. Warne's look this NYFW has been minimalist, often pairing an oversized tan, ankle-grazing coat with simple pencil skirts and clever accessories, like this black leather clutch with cat ears. But this hunter green coat matched with a complimenting green knitted scarf, looks perfectly cozy and polished, and is by far my favorite of her looks this NYFW.
3. Susie Lau
Susie Lau, a.k.a. Susie Bubble, is British-born Chinese, by way of Hong Kong. Lau is probably best known for her thick bangs, often paired with a top-knot, as well as her passion for bright, patterned, colorful clothes. Her outfits add a much-needed pop of color to an otherwise drab New York City winter.
4. Vanessa Hong
Vanessa Hong, who splits her time between Vancouver, Beijing, and New York City, runs the blog and e-commerce site The Haute Pursuit. She takes minimalist and architectural dressing to the next level, wearing almost exclusively structured and tailored clothes in neutral solid colors, like whites, blacks, browns, and grays. But this outfit demonstrates Hong's to make an effective statement with a single accessory, even one as ostentatious as a yellow fur stole.
5. Eva Chen
Eva Chen is the Editor-in-Chief of Lucky and, at 34, is Conde Nast's youngest EIC. A native New Yorker, Chen went to Johns Hopkins to study pre-med, but got off that track after a summer internship at Harper's Bazaar. Not only is she incredibly driven and hard-working, she's also stylish. This NYFW, she's worn mainly ankle-grazing pants, and although she's complained about "hypothermic ankles" on Instagram, the look is working for her, especially when worn with playful, coordinated accessories like those two layered pink coats.
6. Aimee Song
Los Angeles-based Aimee Song has 1.9 million followers on Instagram and has run the semi-eponymous blog Song of Style since 2008. Her look this NYFW has been overwhelming neutral and heavily influenced by menswear, with plenty of tweed, leather, and denim. But she always adds a feminine twist, like with these over-the-knee suede boots.
7. Irene Kim
Irene Kim is a Korean-American model, who's been featured on Bustle for her amazing, My Little Pony -inspired rainbow hair. Kim posts wonderful makeup tutorials on her YouTube channel, and currently lives in Seoul where she works as a TV presenter. A self-described "girl with a huge heart & cramped closet," her warmth and energy definitely shines through her colorful clothing choices, like this fluffy pink fur coat, even on the cold streets of NYFW.
Images: Instagram/Courtesy Users