The Fate of 'Celebrity Apprentice' Is Uncertain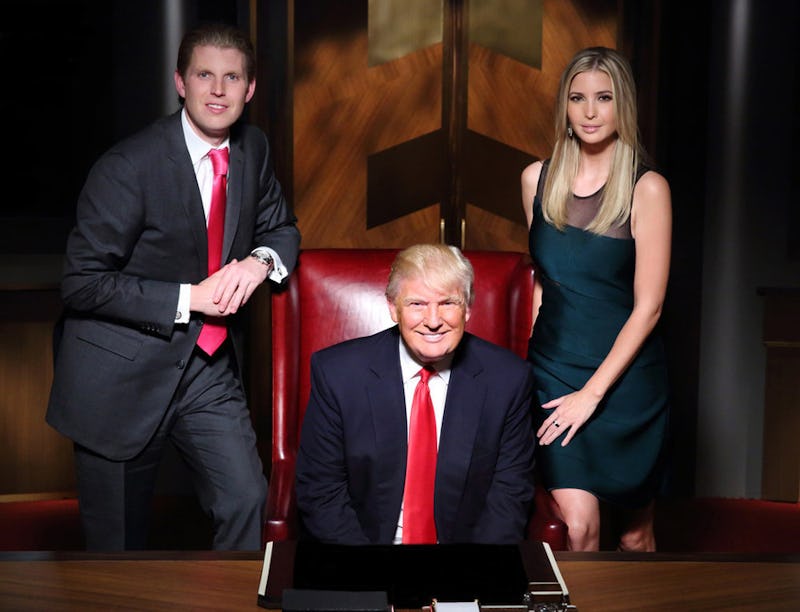 Shows like The Celebrity Apprentice seem to never leave our TV, but there is a chance that one day NBC will pull the plug on Donald Trump's reality competition show. Feb. 16 is the Season 14 finale with Leeza Gibbons and Geraldo Rivera going head-to-head, but will there be a Season 15 of The Celebrity Apprentice ? Right now, the show hasn't been officially renewed by NBC — because even Trump doesn't get automatically green-lit. At the end of the week of Feb. 8, The Celebrity Apprentice ranked 31st in ratings in the 18-49 age demographic. Sure, 31st doesn't sound so great, but it was above other renewed NBC shows like Grimm, Chicago PD, Law & Order: SVU, and Chicago Fire.
NBC seems to be putting a focus on dramas and the president of NBC Entertainment, Jennifer Salke, said of the dramas, "We're highly appreciative of the passion they bring to their shows at every step of the creative process and we're thrilled to reward that dedication with these renewals." But what does that mean for reality shows like The Celebrity Apprentice? As happy as I am to see the reign of the reality show coming to a (kind of) end, The Celebrity Apprentice never fails to amuse.
This isn't the first time that NBC hasn't given a definitive answer about The Celebrity Apprentice. Before Season 14 hit the air (it's technically Season 7 of the celebrity installment), the show hadn't been on TV since spring 2013. In July 2014, the network had announced they had finished filming Season 14, but it didn't have a schedule on when it was going to air. Of course, the delayed gratification led to some spoilers about the new season to be leaked and I can't believe NBC would dare to toy with Trump's emotions like that, but I guess Trump has got bigger things to worry about.
It's rare that I'd prefer celebrities to real people on reality TV, but I do actually enjoy The Celebrity Apprentice to the regular The Apprentice (and NBC must feel the same way since the celebrity variation has taken over). Trump addressed this with Rolling Stone back in 2013 when he said, "A lot of people want us to bring back the regular Apprentice. They'd love us to go back and do an original version like what we were doing with Season 1, where we had people looking for jobs. I just find the celebrities for me to be more interesting." Uh, can it be right that I'm agreeing with Trump right now? This is a weird feeling. Although, maybe it would be better for the world to be giving normal people real jobs rather than having celebrities play a game.
So while it has yet to be renewed, this season of The Celebrity Apprentice has seen a ratings increase — with Zap2it's TV by the Numbers stating it was the "best regular-slot Apprentice rating since the 2012 season finale." So, I'd be surprised if NBC didn't renew the show, but maybe they are waiting to see how the ratings go for the Season 14 finale. Whether you are Team Leeza or Geraldo, you are Team Celebrity Apprentice and you'll have to wait longer than the Feb. 16 finale to know if the show will win.
Images: Douglas Gorenstein/NBC; realitytvgifs/Tumblr (2)