'SNL 40' Smashes Social Media Records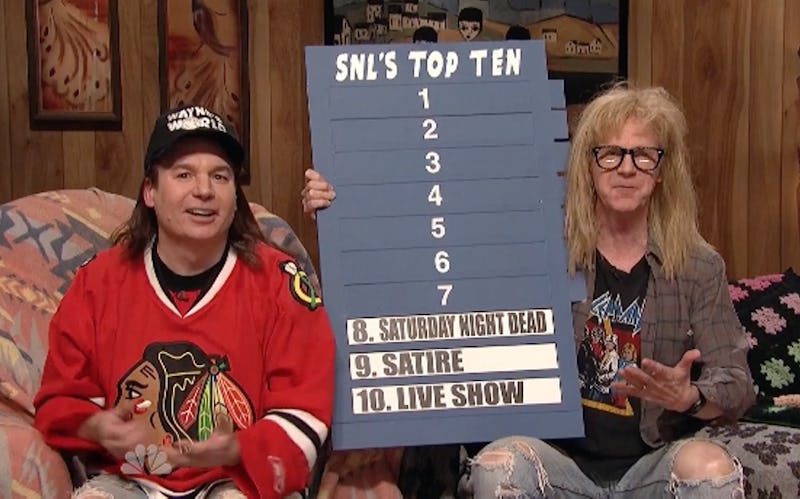 When Saturday Night Live debuted four decades ago, it served as hilarious of-the-moment social commentary. Basically, it was pre-Twitter Twitter, just as capable as churning out memes and making us laugh at the silliness of our society. As the times have changed, Twitter now acts as an almost democratic form of crowded commentary, one that can determine what gets in the public eye and what does. And luckily for Saturday Night Live , last night's 40th anniversary special was a social media smash, breaking records across Twitter.
According to Nielsen Twitter ratings (apparently that's a thing, who knew?) Saturday Night Live's 40th Anniversary Special generated 1.3 million tweets that were seen by approximately 9.1 million people. The latter figure marks SNL as holding the highest unique audience for any episode of a television series for the 2014 -2015 season. But that wasn't the only way Saturday Night Live made history.
Within the three hours both preceding and following the broadcast, Saturday Night Live related tweets were seen about 188 million times. That number means that as of today, Saturday Night Live had the highest Twitter TV impression of any other television show episode.
So what were people talking about in the #SNL40 hashtag? Let's see...
Savannah Guthrie Saying Maya Rudolph & Kristen Wiig "Most importantly, looked hot":
It's important that when it comes to women in comedy, we celebrate what's REALLY important: beauty.
Betty White Making Out With Bradley Cooper:
They're undeniably your new favorite power couple.
Eddie Murphy's Super Short Return:
After Chris Rock paid him tribute listed Murphy's accomplishments and impact, Murphy made a 73 second appearance, with zero character reprisals or anything. No Gumby (dammit!). After being absent for the over 30 years, this return was a little bit underwhelming for viewers.
All Things Kanye:
He unofficially ushered in the show, performed on his back, and was told to sit down on Saturday Night Live's most famous sketch, Wayne's World. And about that...
Wayne's World:
Party time! Excellent!
Image: NBC