'Empire's Jussie Smollett Is Destined For Fame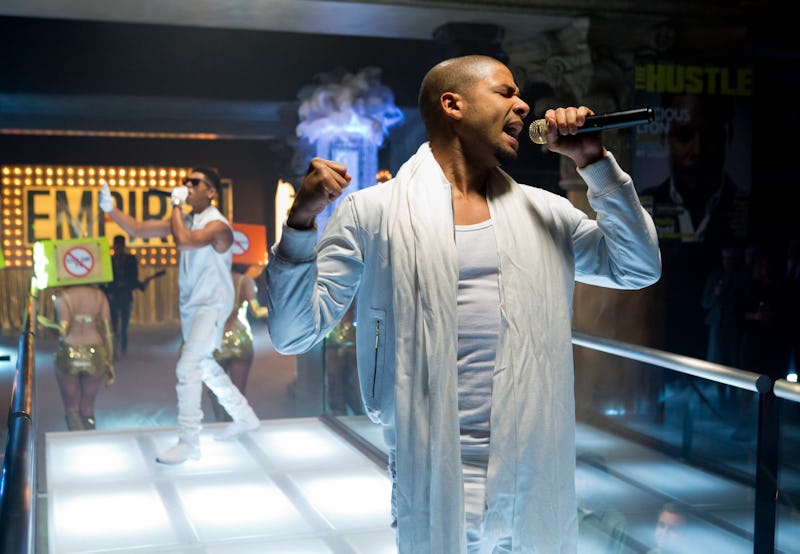 If Lucious is the scheming brain of FOX's new hip hop drama and Cookie its impulsive gut, then their middle son Jamal is Empire's sensitive heart. Viewers have quickly fallen in love with 31-year-old Jussie Smollett's portrayal of Jamal, a gay musician with a soulful voice and a conflicted mind. Six episodes in, and the former Disney star (he appeared as Terry in The Mighty Ducks when he was only nine years old) and brother of actress Jurnee Smollett (Friday Night Lights, True Blood) is already a fan favorite.
It certainly doesn't hurt that Smollett has a killer voice, which he was exploring even before Lee Daniels cast him on Empire. He released his first EP, titled The Poisoned Hearts Club, in 2012, which led Ebony magazine to declare Smollett "Harlem's George Michael" due to his soulful pop vocals. This attention probably helped make Smollett's casting an easy decision for Daniels, who Terrence Howard told Deadline based parts of Jamal off his own experiences growing up with a homophobic father. It's no small task to be asked to basically portray a version of your show's own creator, but one Smollett has executed with aplomb.
But since Empire is what most of us know Smollett from, it's easy to conflate the fictional Jamal with the real-life musician. What is Smollett's music like when he's not on camera? And what's next up in his career? First, let's take a look back at Jamal's first performance on Empire so we can compare it to Smollett's own style.
And now for some of Smollett's real-life work.
He Can Do More Than Sit At A Piano
That's the song "Get Em Up" from The Poisoned Hearts Club, in Smollett's music video debut. While Jamal spends most of his time crooning songs while sitting at a keyboard, it's nice to see Smollett get up and bust some moves. In this video, we see him dance in a Michael Jackson-esque alleyway, and then on top of a black-lit bar. Hopefully Empire will start utilizing the musician's dance moves more and free him from the constraints of his piano.
But He Doesn't Need High Production Values, Either
While it's cool to see Smollett in a full-blown music video, the musician doesn't even need all those sets and costumes and choreography to impress. Here he is performing another song from his EP, "Fatigue," while simply sitting in what looks like his kitchen, singing a cappella to one stationary camera. *chills*
He Likes Covering Other Artists
Just like Darren Criss, Smollett knows that the easiest way to win over fans is to do a dreamy cover of Katy Perry's "Teenage Dream." Here he is with his front-up singers Chia and Gaby jamming out and sounding flawless. There's also a similar video of the trio covering Kanye West's "Heartless."
He Writes His Own Music
In last week's episode of Empire, "Out, Damned Spot," we heard Jamal sing a new song called "I Wanna Love You." While most of the music on the show is written by Timbaland, it turns out this particular tune was penned by Smollett himself!
We'll Be Hearing More Of His Original Work Soon
Judging by the actor's own words, "I Wanna Love You" won't be the last time we hear original work from Smollett this season. I'm already looking forward to hearing what he comes up with next.
He Has An Album Coming Out This Year
Perhaps "I Wanna Love You" and whatever other original music he's working on for Empire will find its way onto the singer's first full album, which he promises his Twitter followers will debut sometime in 2015.
He's Destined To Be A Radio Star
"I Wanna Love You" has already become so popular that it's been getting airtime. If Smollett can get on the radio with a song he wrote for a TV show, just imagine how successful his album will be!
Next Up: Tour?
Could a tour be in the cards for the Empire cast? This is a theory we've already bandied about, supported by Bryshere Gray's non-denial and promised surprise announcement. Going on tour with Gray, Howard, and Taraji P. Henson would be the perfect way for Smollett to pave the way for an album release later this year.
Images: Chuck Hodes/FOX (2)