'Frozen' On Broadway Should Star These Celebs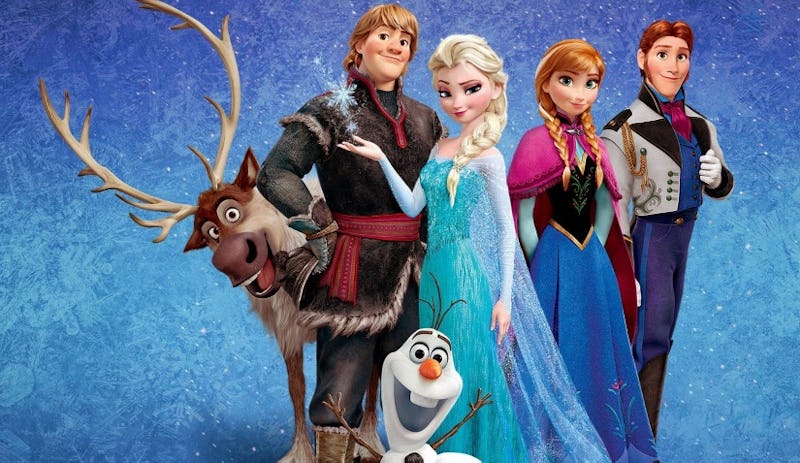 With all the success of the animated musical, Frozen, it's no surprise Disney is banking on it any chance they can get. A spin-off on the hit show, Once Upon a Time? Check. Children's toys and costumes? Check. Frozen on Ice? Check. It seems there are several projects in the work for the film (including a rumored sequel), but one of the biggest projects this year seems to be the on stage musical adaption. Yep, that's right: a Frozen Broadway musical is in the works with your favorite hits from the movie (which, I'm not even gonna lie, I am really excited about).
This definitely wouldn't be the first time Disney turned a massive movie into a Broadway hit. Look at Lion King which in 2014, became the top-earning musical in box office history, surpassing the previous record holder The Phantom of the Opera. Yeah, Disney definitely knows what they're doing, so it's even more exciting to hear they're already recruiting writers for the show (there might even be a few more additions to the score). With all this casting going on behind the scenes, we can't help but wonder what the actual cast will look like? Here are some hopes, suggestions, etc. we would love to see for the main roles:
Emma Stone as Anna
Because she's no stranger to Broadway anymore, what with her recent performance as Sally Bowles in Cabaret . And seriously, how funny would she be in this part?
Jonathan Groff as Kristoff
Because who better to play Kristoff than the voice of Kristoff? But really, how much does he look like Kristoff in real life? Just give this amazing performer more singing parts, please!
Aaron Tveit as Hans
Because he's known for playing the good looking guy turned bad boy (i.e., Ugly Betty, Gossip Girl) and we know he has the singing chops with his performance in the movie adaption of Les Misérables.
Ben Platt as Sven
Because he was so adorable in Pitch Perfect — but, of course, they would have to work in some singing parts for Ben too, because you can't let that beautiful voice go to waste.
James Monroe Iglehart as Olaf
Because Olaf stole our hearts in the movie and James would steal the show on the stage. He's already snagged the Tony for Best Featured Actor in a Musical, imagine what he could do with this lovable snowman.
Alan Cumming as The Duke of Weselton
Because who could pull of this cooky antagonist better than this guy? It would also open doors for a Cabaret reunion if Emma were to get the part.
Samantha Barks as Elsa
Because if she can tackle Idina Menzel's "Defying Gravity" at only 17, we can only imagine what she could do with "Let it Go."
Images: Disney, Getty Images