Benedict Cumberbatch Isn't An Oscar Front-Runner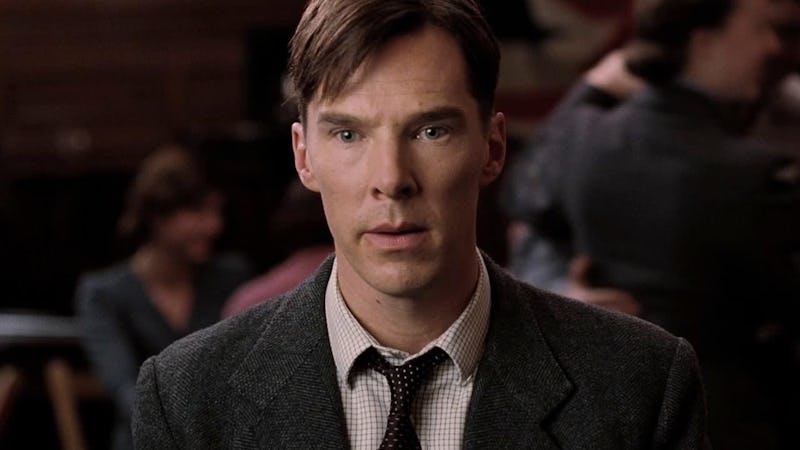 Sorry, Cumberbatch kids. You may have to join the ranks of the DiCaprio fans. I do not think that Benedict Cumberbatch will win the Oscar for The Imitation Game this Sunday. The role of Alan Turing has won him critical acclaim but only a few minor awards from critics and festivals. Eddie Redmayne has been sweeping the major awards, with Michael Keaton right behind him. It is an interesting year for Best Actor in a Leading Role. Almost all of the actors nominated portrayed real people and the Academy loves a biopic. There just usually aren't this many to choose from.
While this is his first nomination at the Academy Awards, it isn't Cumberbatch's first time on the awards circuit. He won an Emmy for Sherlock last year and has been nominated for five BAFTA awards. Interestingly enough, his first BAFTA nomination was for playing Stephen Hawking (in 2004's Hawking), just like his current Oscar competition Redmayne. His other acclaimed films include 12 Years A Slave, Star Trek: Into Darkness, Tinker Tailor Soldier Spy, August: Osage County, Parade's End, The Fifth Estate, and The Hobbit. Seriously, what film has this man not been in? One would think that his time is now, however, the Oscar has as much to do with competition as it has to do with timing.
While the general consensus is that Cumberbatch knocked it out of the park in this role, The Imitation Game as a film was not met with as much universal praise. It has been criticized for its heavy-handed structural choices and the way it handled Turing's struggle with his sexuality. While criticism has not always affected Oscar winners, in a year so full of contenders, it could make all the difference.
Plus, the road to the Academy Awards has been bumpy for other reasons as well. Earlier this year, Cumberbatch came under fire for referring to black actors as "colored actors" in an interview. Though he apologized, it's something voters aren't likely to forget. Say what you will about the Academy, but I'm guessing they as a whole would not want to be associated with such blatantly offensive language.
The only way I could see Cumberbatch winning the Best Actor in a Leading Role Oscar on Sunday is if Redmayne and Keaton somehow split the vote and tie for second. The other nominees in the category are Bradley Cooper, who has also deserved this award for a while, and Steve Carrell, who is still owed an Emmy for The Office in my humble opinion. However, if an upset is going to happen, I would place my bets on Cumberbatch.
I'm sure there will be other Oscar opportunities for Benedict Timothy Carlton Cumberbatch in the future. At least he has a new wife in Sophie Hunter and a baby on the way! That's a phenomenal start to 2015 whether he wins the Academy Award or not.
Images: The Weinstein Company; Giphy (2)